View all news
Professor Evelyn Welch to become University of Bristol's first female Vice-Chancellor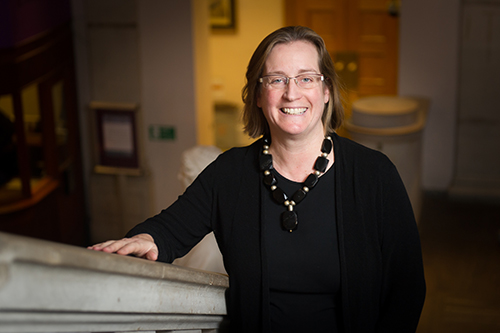 Press release issued: 22 March 2022
The University of Bristol is delighted to announce Professor Evelyn Welch as its 14th Vice-Chancellor – and the first woman to lead the historic institution.
Professor Welch, who is currently Senior Vice President (Service, People & Planning) at King's College London, will take up the role on 1 September 2022, succeeding Professor Hugh Brady who has been Vice-Chancellor for seven years.
Professor Welch studied Renaissance History and Literature at Harvard University and gained a PhD from The Warburg Institute in London. Prior to King's, where she was Interim President in 2021, she held senior leadership roles at the University of Sussex (Pro Vice-Chancellor for Teaching & Learning) and Queen Mary, University of London (Dean, Arts and Pro Vice-Chancellor for Research & International).
Professor Welch has led a range of major interdisciplinary research programmes throughout her career and in 2013 was awarded an MBE for services to higher education and the creative economy.
Her appointment follows a global search, overseen by the Chair of the University's Board of Trustees, Jack Boyer OBE.
Professor Evelyn Welch said: "Bristol is a remarkable global university in a great city. Its passionate, talented and innovative staff and students change lives for the better every day. I am excited about the University's new vision and strategy and proud to be the first woman to lead such an outstanding institution. I look forward to serving the whole Bristol community to fully realise our potential and achieve our shared ambitions, locally, nationally and globally."
Sir Paul Nurse, Chancellor of the University of Bristol, said: "I'm delighted by the appointment of Professor Welch as Vice-Chancellor and President of Bristol. She will be a fantastic asset to the University and is perfectly placed to help our community progress its academic and civic mission. I'm sure she will be warmly welcomed as we move into the future with considerable confidence and optimism."
Jack Boyer OBE, Chair of the University's Board of Trustees, said: "Professor Welch is an accomplished academic and university leader. She is deeply committed to our institutional values and exceptionally well placed to lead our university into the post-Brexit, post-pandemic world.
"I'm proud that Bristol will welcome its first female Vice-Chancellor. I have no doubt she will bring new insights and perspectives to the strategic leadership of the University; draw on her considerable experience to build on Bristol's outstanding teaching and research; and guide us towards achieving our ambitious university vision."
He added: "I would like to take this opportunity to thank Professor Hugh Brady for his outstanding leadership over the past seven years. This has seen Bristol take a sector-leading approach to sustainability, widening participation and civic initiatives, invest significantly in education and the student experience, and undertake world-class research which is making a tangible difference to people's lives."