View all news
Infectivity of airborne SARS-CoV-2 could decrease by 90% within 20 minutes of exhalation, new laboratory study finds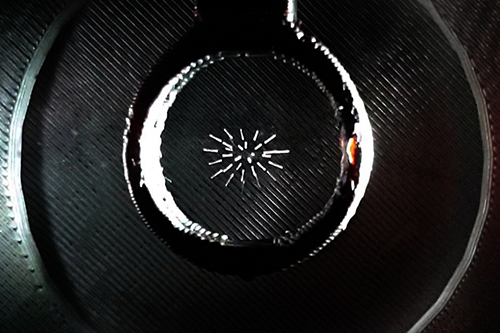 Press release issued: 28 June 2022
The SARS-CoV-2 virus can lose 90% of infectivity when in aerosol particles within 20 minutes, according to new University of Bristol findings. The study, published in the journal of the Proceedings of the National Academy of Sciences (PNAS), is the first to investigate the decrease in infectivity of SARS-CoV-2 in aerosol particles over periods from seconds to a few minutes. The aim of the study was to explore the process that could change viral infectivity over short timescales following exhalation.
Scientists from Bristol's Schools of Chemistry, Vet School and Cellular and Molecular Medicine, sought to gain a detailed understanding of the factors which regulate the survival of airborne SARS-CoV-2 inhalable particles, and how infectivity is affected by environmental conditions such as relative humidity (RH) and temperature. RH measures how much water vapour (moisture) there is in the air compared to how much there could be at that temperature. Ideally, healthy indoor RH levels are between 40 to 60%.
Using a novel instrument called CELEBS (Controlled Electrodynamic Levitation and Extraction of Bioaerosols onto a Substrate), the team were able to probe the survival of SARS-CoV-2 in laboratory generated airborne particles and examine how temperature and humidity drive changes in infectivity, from timescales spanning five seconds to 20 minutes. The same experiment was carried out comparing four different SARS-CoV-2 variants, including Alpha and Beta.
Results from the team's experiments found a significant loss in infectivity within the first ten minutes of aerosol particle generation that is strongly dependent on the environmental relative humidity, but not temperature. This effect did not alter across the different SARS-CoV-2 variants.
The team observed a decrease in airborne infectivity at low relative humidity (<50%) that occurs almost immediately, falling to 50% within ten seconds of aerosol generation. This loss occurs when the airborne particles dry and rapidly lose moisture, forming a solid particle. At high relative humidity, the loss in infectivity following aerosolization is more gradual, with a steady loss of infectivity of 50% within the first five minutes and 90% within twenty minutes. This loss is due to a significant increase in aerosol particle pH.
Jonathan Reid, the study's lead author, Director of Bristol Aerosol Research Centre and Professor of Physical Chemistry in the School of Chemistry at the University of Bristol, said: "We know that aerosol particles, exhaled when infected individuals breathe, speak or cough, can transmit viruses. Understanding the mechanisms that influence the survival of pathogens while airborne is a further piece of the jigsaw puzzle in understanding the spread of diseases such as COVID-19.
"Using model systems in the laboratory, we have been able to identify these two processes that can lead to the rapid loss in infectivity of the SARS-CoV-2 virus at early time. It should also be remembered that there can be a 1,000-fold variation in exhaled aerosol mass and 10,000-fold variation of SARS-CoV-2 exhaled viral load between individuals. All of this reminds us of the things we don't yet understand and, along with epidemiological studies, the importance of using appropriate mitigations to reduce aerosol transmission including face masks, physical distancing and ventilation."
This work was funded by the NIHR-UKRI, Elizabeth Blackwell Institute for Health Research, Medical Research Council, PROTECT COVID-19 National Core Study on transmission and environment, managed by the Health and Safety Executive on behalf of HM Government, the BBSRC, Defence, Science and Technology Laboratory and EPSRC.
Paper
'The dynamics of SARS-CoV-2 infectivity with changes in aerosol microenvironment' by Jonathan P. Reid, Andrew D. Davidson, Allen E. Haddrell et al in PNAS [open access]

Further information
About Professor Jonathan Reid's Research Group, University of Bristol
Professor Reid is Director of the EPSRC Centre for Doctoral Training in Aerosol Science, current president of the UK and Ireland Aerosol Society, and Professor of Physical Chemistry at the University of Bristol.
About the Bristol Aerosol Research Centre (BARC)
Research at the Bristol Aerosol Research Centre (BARC) is focussed on improving our understanding of the physical and chemical properties of aerosols at a single particle level. Aerosols play important roles in a broad range of disciplines including atmospheric science, the delivery of drugs to the lungs, the formation of structured micro- and nanoparticles, and combustion science.
About the National Institute for Health and Care Research (NIHR)
The mission of the National Institute for Health and Care Research (NIHR) is to improve the health and wealth of the nation through research. We do this by:
Funding high quality, timely research that benefits the NHS, public health and social care;
Investing in world-class expertise, facilities and a skilled delivery workforce to translate discoveries into improved treatments and services;
Partnering with patients, service users, carers and communities, improving the relevance, quality and impact of our research;
Attracting, training and supporting the best researchers to tackle complex health and social care challenges;
Collaborating with other public funders, charities and industry to help shape a cohesive and globally competitive research system;
Funding applied global health research and training to meet the needs of the poorest people in low and middle income countries.
NIHR is funded by the Department of Health and Social Care. Its work in low and middle income countries is principally funded through UK Aid from the UK government.
About Elizabeth Blackwell Institute
Nurturing research. Improving health.
The Elizabeth Blackwell Institute drives innovation in research to improve health for all. It nurtures interdisciplinary research to address the complex health challenges facing us today.
The institute focuses on:
Supporting the next generation of health researchers
Connecting people to develop interdisciplinary research
Including everyone in research so the research can benefit all.
Bristol UNCOVER Group
In response to the COVID-19 crisis, researchers at the University of Bristol formed the Bristol COVID Emergency Research Group (UNCOVER) to pool resources, capacities and research efforts to combat this infection.
Bristol UNCOVER includes clinicians, immunologists, virologists, synthetic biologists, aerosol scientists, epidemiologists and mathematical modellers and has links to behavioural and social scientists, ethicists and lawyers.
Follow Bristol UNCOVER on Twitter at: twitter.com/BristolUncover
For more information about the University of Bristol's coronavirus (COVID-19) research priorities visit: http://www.bristol.ac.uk/research/impact/coronavirus/research-priorities/
Support our COVID-19 research
Bristol's researchers are part of a global network of scientists responding urgently to the challenge of the coronavirus pandemic.