View all news
'Plogging' champion brings craze to Bristol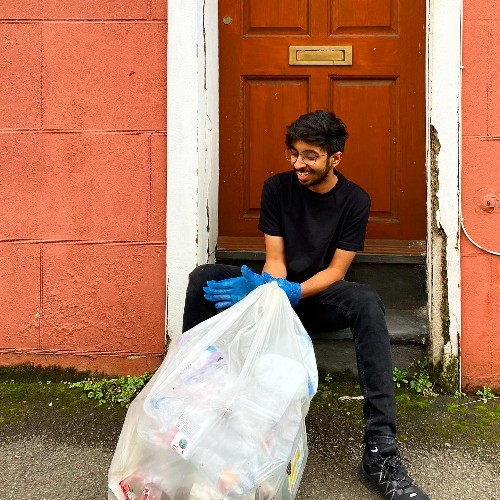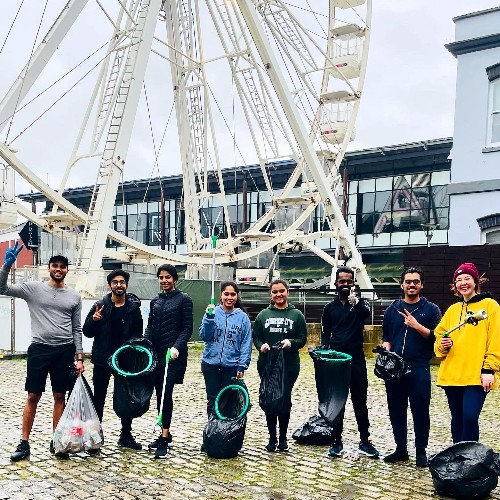 Press release issued: 28 February 2022
Student Vivek's campaign has collected 1,000 tonnes of trash.
An Indian environmentalist behind a craze that has seen thousands of people picking up rubbish while jogging is now hitting the streets of Bristol.
Vivek Gurav got tired of diminishing numbers attending clean-up drives in his home city of Pune, West India, when he stumbled upon 'plogging'.
The craze is a combination of jogging and litter picking.
Four years on, Vivek has been on more than 250 plogging missions and his ever-growing team of volunteers has collected 1,000 tonnes of rubbish.
Now Vivek has won a scholarship to the University of Bristol - and he has brought plogging with him.
He began a 30 day daily plogging challenge on February 4 - with the help of free litter picking kit from the University's Sustainability team - and plans to launch a Bristol plogging group when it ends.
"Human behaviour is the same everywhere and while there is much less trash here than in India there is still plenty of reasons to stop when I'm running," the 26 year old Masters student said.
"We see a lot of the same things - especially single use plastics and coffee cups - although there seems to be a lot more cigarette butts here!
"I go plogging in the early morning before work and do about 3 or 4km a day, although I get really excited if I'm going somewhere new and sometimes go for 7 or 8km.
"I've been reaching out to community groups, councils, students halls and community groups to come together to join my plogging group in March - together we can make a huge difference."
Vivek was working in the tech sector when he started to champion litter picks. But after three years of hard work attendance began to drop off.
"As a developer I was very interested in gamification - turning something normal into a game," he said.
"Litter picks can be quite monotonous. When I came across plogging I thought: 'maybe this could help.'
"You can jog every day and all you have to do is take a bag with you. It keeps you active and it's great for the environment."
Vivek embarked on his first ever 30 day plogging challenge in 2018. When he finished, 100 people turned up for the first group plogging session.
Today, there are 10,000 ploggers in India and Vivek's group the Pune Ploggers - thought to be the World's first community plogging group - have collected 1,000 tonnes of litter.
Now he is looking move from the tech sector into sustainability.
He wanted to study in Bristol because of the city's rich culture and for the University's Cabot Institute for the Environment, a world-leading environmental research hub.
He has been awarded a Think Big scholarship by the University to study for an Environmental Policy and Management MSc.
He hopes that his Masters will equip him with the skills he needs to become an environmental consultant.
He said: "I want to take my learning back to India to be part of policy and decision making. I want to make the environment my profession as well as my passion."
Professor Sarah Purdy, the University's Pro-Vice Chancellor for Student Experience, said: "Vivek's passion for the environment is inspirational.
"It's fantastic to see someone use their skills and drive to make a difference, both here and in India."
Follow Vivek's plogging journey on Instagram: @theplogman.