View all news
Bristol students among the world's most employable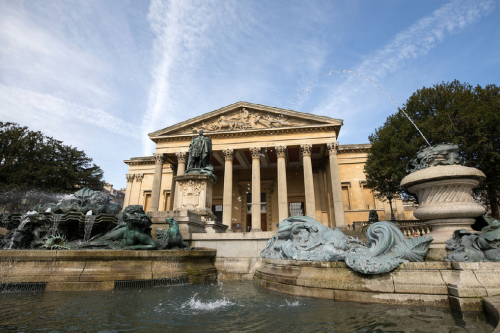 Press release issued: 23 September 2021
University of Bristol students are some of the most employable in the world, a new league table has found.
The QS Graduate Employability Rankings 2022 placed Bristol at 49th out of more than 786 global institutions surveyed.
Bristol improved on its placing of 58th from last year, despite QS surveying more universities than ever before.
QS analysed tens of thousands of data sources and ranked the institutions on five key metrics.
Bristol performed particularly well in 'Employer Reputation', which asked more than 75,000 businesses what they thought of the various universities, and 'Partnerships with Employers', which looked at how well universities work with global companies.
'Alumni Outcomes' analysed 40,000 "of the world's most innovative, creative, wealthy, entrepreneurial, and/or philanthropic individuals to establish which universities are producing world-changing graduates".
The 'Graduate Employment Rate' looked at how many students were in full or part-time employment within 12 months of graduation - 95.8% at Bristol - and the 'Employer-Student Connections' asked for the number of employers that had visited a university campus, for example at careers fairs.
Stuart Johnson, Director of the University of Bristol's Careers Service, said: "Bristol attracts great students and produces amazing graduates. The opportunities and support, both curricular and extra-curricular, that students gain during their time here prepare them for life.
"Our connections with employers, from start-ups to multinationals, locally to globally, mean that Bristol grads are amongst the best prepared in the world."
The University's Careers Service is a one-stop shop for careers advice, work experience opportunities, career planning courses and help with CVs, applications and interviews.
It also runs the New Enterprise Competition, a student start-up contest with £35,000 in prize money, and the Bristol PLUS Award, the University's employability award, which rewards students for extracurricular activities completed at any point during their degree and provides a structure to reflect on the skills they have developed.
Earlier this month the University of Bristol was given an Exclusive Global Employers' Choice Award by GUCCU, a non-profit founded by 1,600 global universities and China's leading recruitment platform. It was awarded in recognition of Bristol's efforts in providing career opportunities for students during the Covid-19 pandemic.
To find out more about the Careers Service and how it could help you follow this link.