View all news
Bristol Composite Institute welcomes new co-directors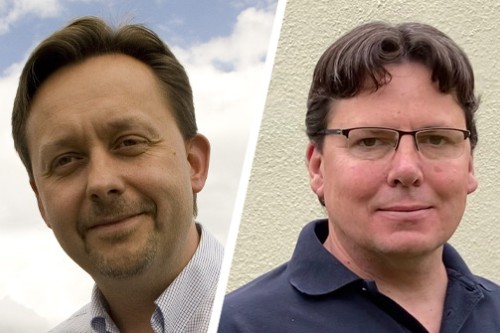 16 September 2021
Bristol Composites Institute at the University of Bristol has appointed two new co-directors, Professor Ole Thomsen and Professor Stephen Hallett, to succeed founding director, Professor Michael Wisnom.
The transition will mark a significant change for the Bristol Composites Institute which launched under Professor Wisnom's leadership as Advanced Composites Centre for Innovation and Science (known as ACCIS) in 2007. The new co-directors will be building on a strong legacy of global research and innovation. Research from Bristol Composites Institute is informed by the needs of our industrial partners and our changing world. For example, weight and cost saving technology from BCI research has been incorporated into Rolls Royce's composite fan blade development programme, and award winning spin-outs like iCOMAT are innovating processes and bringing down the cost of lighter, stronger carbon fibre composites.
From renewable energy, to green aviation and medical devices, the applications of composite materials are endless. Recent research successes include; working with the international space station, a £1.5million grant from EPSRC for investigating cellulose based materials, and a £2million grant from the European Research Council to investigate natural neuroactive mechanical metamaterials.
As co-directors Professors Thomsen and Hallett will lead the BCI forwards into a world where the value of composites research and their potential to solve global challenges is becoming increasingly understood.
"We are delighted and honoured to be appointed jointly as directors of BCI. Professor Michael Wisnom has done a truly outstanding job in founding BCI and developing it to its status as a world leading institute for composites research. We wish to thank Michael for his unprecedented devotion and great service in the success story of BCI. We look forward to developing BCI even further, in close collaboration with BCI staff and students, the Faculty and University, and not least our colleagues at the NCC and our industrial partners."
Professor Ole Thomsen is the NCC Chair in Composites Design and Manufacture at the Bristol Composites Institute, University of Bristol and the National Composites Centre. Professor Thomsen's main research interests are: design, experimental and computational characterisation of lightweight composite structures.
He has previously held senior positions at the University of Southampton, UK; Aalborg University, Denmark; European Space Agency, European Space Research and Technology Centre, the Netherlands; the University of Delaware, Center for Composite Materials, USA; Technion, Israel. He has been European editor, Composites Part B: Engineering since 2018; and was previously Chairman, Innovation Fund Denmark, Research Council for Technology and Production Sciences 2012‐2014 (equivalent to EPSRC). He was made a Fellow of the Danish Academy of Technical Sciences (equivalent to FREng) 2007 and awarded a Knighthood by Her Royal Majesty Queen Margrethe II of Denmark in 2012.
Professor Stephen Hallett is Professor in Composite Structures at the University of Bristol where he is currently Deputy Director of the Bristol Composites Institute and Director of the Rolls-Royce supported Composites University Technology Centre (UTC). His principal research interests are: Composite failure mechanisms, Computational model for composites mechanical performance and manufacturing processes, Textile Composites, Impact and high rate effects.
He has worked at the University of Bristol since 2000, before which he worked in the automotive industry. He is a Fellow of the Institute of Mechanical Engineering (IMechE) and was awarded their Kenneth Harris James Prize, for best paper on an aerospace subject in 2016. He is Composites Topic editor for Composites and Advanced Materials (since 2019) and on the editorial board for Materials and Design.
Professor Ian Bond, Dean of the Faculty of Engineering said: "As a member of the Bristol Composites Institute myself I am profoundly aware of the huge impact Michael's leadership has had on the field, and the positioning of the UK at the forefront of advanced materials science and technology. Our strong and close relationships with our many partners, but especially with the National Composites Centre and Rolls Royce via the UTC were established under Michael's stewardship and his legacy in the field of composites and across the wider research domain cannot be overstated."
Professor Michael Wisnom joined the University of Bristol in 1987 after an already distinguished career in industry, reaching the level of Technical Director, Europe, for SDRC Engineering Services. Over his time at Bristol he has grown the research group in Composites from just 4 faculty members in 1999 to its current 30 academic staff and 200+ research staff and postgraduate students. His work and leadership have placed the University of Bristol at the forefront of international composites research. He continues his role in the Institute as Professor of Aerospace Structures on a part-time basis.
Further information
The Bristol Composites Institute is a University of Bristol Specialist Research based in the Faculty of Engineering. BCI benefits from affiliate academic staff from Schools across the University of Bristol. The Institute's activities are supported by numerous Research Council grants and a wide range of industrial funding. High profile activities include the EPSRC funded Centre for Doctoral Training and EngD Industrial Doctorate Centre in Composites Manufacture; the EPSRC Future Composites Manufacturing Research Hub and the Rolls-Royce University Technology Centre (UTC). The Bristol Composites Institute liaises closely with the National Composites Centre (NCC) in R&D activities, helping to bridge the gap between academic research and its application within industry.
The EPSRC Centre for Doctoral Training in Composites Science, Engineering and Manufacturing sits within the Bristol Composites Institute and runs a four-year, fully-funded PhD programme. Students undertake cohort-driven training and cutting-edge research working closely with world leading academics in the field of composite materials.
MSc Advanced Composites is a one year taught post-graduate course which provides students with an in-depth theoretical understanding and practical knowledge of advanced composite materials.