View all news
First UK women's urinal wins top prize in the University of Bristol's New Enterprise Competition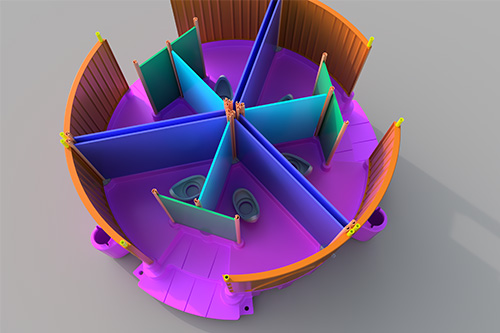 Press release issued: 25 May 2021
PEEQUAL, a student start-up whose mission is to pioneer pee-equality for women, is the winner of this year's University of Bristol New Enterprise Competition, securing £15,000.
PEEQUAL was founded by Anthropology with Innovation and Physics with Innovation students, Amber Probyn and Hazel McShane, who graduated in 2020.
The product is the UK's first touch-free women's urinal, which solves the problem of women's toilet queues at outdoor events by being six times quicker to use than conventional portable lockable toilets.
It is made from 100% recyclable materials and comes as flat pack design, making it easier to transport and set up to different space-saving configurations. It also produces 98% less CO2 than portable toilets.
Amber Probyn, Co-founder at PEEQUAL, said: "We feel massively encouraged and honoured to receive the award for the New Enterprise Competition, it means we can get our PEEQUAL urinals out to events as soon as possible! Thank you, Basecamp, for becoming part of our extended team, your support has come at such a pivotal point!"
Hazel McShane, Co-founder at PEEQUAL, said: "Winning the New Enterprise Competition has given us the funding and recognition to follow our dream for pee-equality. We are now so excited to get our PEEQUAL urinals out there to free the pee."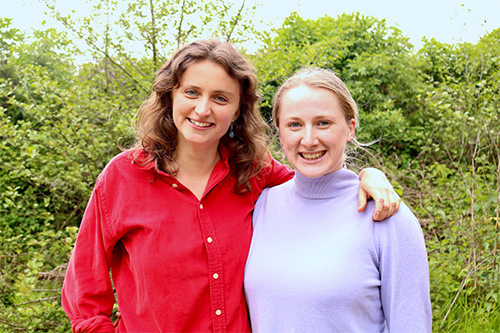 The New Enterprise Competition is the University of Bristol's flagship start-up competition, run by the Basecamp Enterprise team. Previous winners include Ultraleap, a world leading hand tracking and haptics technology company, and Kaedim, an AI company whose software creates 3D assets for games and films in seconds, and which this year has raised its first substantial pre-seed round.
Of the 21 businesses competing this year, two other student-led start-ups were awarded runners-up:
Bottle Farm won £5,000 for their kit that turns any plastic bottle into an indoor farm.
Senmag Robotics won a 12-month membership to tech incubator SETsquared Bristol and pro-bono legal support from sponsors VWV. Senmag Robotics combine ultra-precise motion tracking with high-fidelity 3D force feedback to allow a user to move around a virtual 3D environment and physically interact with objects within it.
Professor Phillip Taylor, Pro Vice-Chancellor for Research and Enterprise at the University of Bristol, said: "The New Enterprise Competition is not just a competition, it's a support programme supported by mentors and partners such as SETsquared to provide tailored business advice.
"The competition continues to be a catalyst for innovations ranging from deep tech, healthcare, wellbeing, sustainability and creative arts. Thank you to our mentors, partners and sponsors and the Basecamp Enterprise team for supporting students and graduates on their journey to create value for themselves, the city and society."
Monika Radclyffe, Centre Director at SETsquared Bristol, said: "The New Enterprise Competition is a great example of how innovation is spotted, celebrated and supported by the University of Bristol. SETsquared Bristol is proud to be involved with mentoring and judging this talent and welcoming Senmag Robotics to our incubation programme to support them on the next commercial stage of their entrepreneurial journey."
Vote for the University of Bristol start-up you would like to win £2,000. The People's Choice Award creates further exposure for our finalists, it is a public vote and eight finalists have decided to take part. Take a look at all finalists and vote using the voting form in the video description box. Voting closes at 12pm on Monday 31 May so make sure your vote counts!
Further information
The New Enterprise Competition is the University of Bristol's flagship start-up competition, run by the Basecamp Enterprise Team. The competition has a 20-year history providing funding and mentoring support to early stage startups of University of Bristol undergraduates, postgraduates, alumni up to three years after graduation and staff. The competition works with candidates across three stages through the Ideas Stage, moving your startup forward towards the Development Stage, to taking your startup to the next level in the Growth Stage of the competition. Every year £35,000 is awarded through sponsor support.
SETsquared Bristol is a University of Bristol-led tech incubator, supporting founders to grow businesses and make an impact in the world. It has incubated over 270 companies to date, with over £530 million raised.
The seven other finalists in the 2021 New Enterprise Competitition were:
Young Goat is a lifestyle brand to inspire people to be the best version of themselves and to believe that they can be the GOAT (Greatest Of All Time). They combine premium fabrics and contemporary colourways to produce accessible streetwear.
Chisel Robotics are developing a technology that can convert any regular prosthetic leg into a smart one to provide 24/7 assistance to people with lower limb amputation.
WellEasy is a curated range of the best healthy products for every diet, lifestyle and value, for up to 45% off RRP, delivered directly to your door.
Chaser increases the effectiveness of digital marketing through the concept of digital scavenger hunts.
SoundOFF's mission is to protect hearing of industrial workers by eliminating noise, one sound at a time. Their solution allows users to select sounds they want to hear. You can choose to remove machinery noise while keeping the alarm sounds on - just like selecting TV channels.
KnoWaste is a data-driven food management service for the catering sector. Using a pre-order system it reduces the cost and volume of food waste for catering teams, whilst gamification and visualisation techniques inform diners of the environmental impacts of their food, encouraging responsible food consumption.
Green Green Robotics are creating sustainable solutions to reduce waste. They've designed a low-cost refill station that quickly fills bottles with any cleaning fluid, like soaps and shampoos and are at testing stage with commercial partners.
This year's sponsors were Engineers in Business, Santander Universities, SETsquared Bristol and VWV.
The judges were: Nathan Guest, VWV; Paul Forster, SETsquared; Jaci Barnett, University of Bristol; Suzanne Cole, University of Bristol; Nick Davies, Santander Universities.
Kaedim were winners of the New Enterprise Competition 2020.