View all news
University of Bristol announces £7.6 million partnership with EDF to improve design and performance of nuclear power plants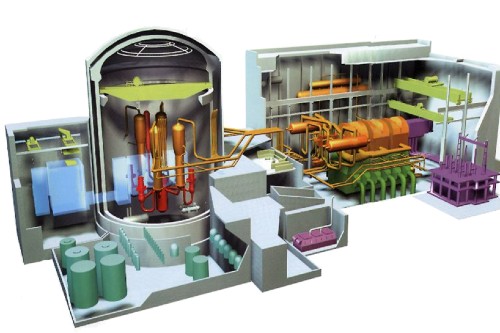 Press release issued: 2 April 2021
The University of Bristol will join forces with EDF, The University of Manchester, Imperial College London and the Science and Technology Facilities Council to develop new ways to assess the condition of nuclear power stations.
Announced today (Friday 2 April 2021) by Business Secretary Kwasi Kwarteng, the £7.6m collaboration will harness world-leading expertise to develop key components for digital twins – virtual models of physical entities – that can be used to assess the condition of components of energy generators such as nuclear power plants, and their need for maintenance or remedial work.
Delivering and operating safe and economic, major low-carbon energy generation assets, including nuclear power plants, can be achieved by updating, streamlining and automating their design, fabrication and life-time assessment.
This partnership, working with nuclear industry supply chain organisations, aims to develop cutting-edge digital tools that will simulate the behaviour of materials from their first use to the end of their life.
The project harnesses world-leading expertise from The Alan Turing Institute, The Henry Royce Institute and the Science and Technology Facilities Council Scientific Computing Department.
It is one of nine new partnerships will bring together world class expertise from some of the UK's most prominent businesses and research institutions – from Unilever to the Francis Crick Institute - to develop innovations that will enable the UK's to meet its most pressing challenges such as tackling climate change and boosting medical research.
Backed by a £75.2 million combined investment from government, business, and academia, the business-led collaborations will each draw on existing industry and research strengths in regions across the UK, from Teesside to Bristol, to develop products and technologies that will drive economic growth and potentially create highly skilled local jobs.
Today's government funding is being delivered through the Engineering and Physical Sciences Research Council (EPSRC), part of UK Research and Innovation, and is part of the flagship Prosperity Partnerships programme. It builds on the Government's commitment to raise economy-wide investment in research and development to 2.4% by 2027.
Professor David Knowles, principal academic investigator for the partnership and CEO of the Henry Royce Institute, said: "SINDRI brings together materials behaviour, manufacturing modelling and data science expertise to really drive a step-change in digital innovation in materials science, supporting the nuclear industry now and in the future.
"This research is central to the enhancement of our understanding of material behaviour which will help us attain the Government's target of reducing the cost of new nuclear by 30% by 2030, ensuring the delivery of reliable, low-carbon energy."
Dr Ionel Nistor, Head of Nuclear R&D at EDF, added: "EDF is looking forward to starting work with our academic and industrial partners on this project which brings together a unique combination of expertise.
"SINDRI will develop digital tools to help the UK nuclear sector and other industries to reduce costs and ensure safety when designing, building and operating strategic assets."
EPSRC Executive Chair, Professor Dame Lynn Gladden, said: "To tackle key challenges, such as achieving Net Zero, and seize new opportunities we need to harness the world-class expertise of both industry and academia.
"The Prosperity Partnerships announced today do this by supporting collaborations that will develop transformative new technologies with the potential to deliver societal impact and economic growth."
Further information
As part of this £7.6m partnership, £3.4m will be provided by EDF, £1.7m by the University of Bristol, and £2.4m by the Government through the Engineering and Physical Sciences Research Council (EPSRC).
About Prosperity Partnerships
The Prosperity Partnerships are supported through an investment of £23 million from EPSRC, £38 million from industry in cash and in-kind contributions, and £11 million from universities. An additional £2.6 million will be invested in two partnerships through UKRI's Biotechnology and Biological Sciences Research Council.
The partnerships announced today bring the total number of Prosperity Partnerships funded to 39. Since 2019 total investment in prosperity partnerships has reached £274 million, including £110 million from EPSRC and UKRI partners and £131 million leveraged from 70 businesses.
The Engineering and Physical Sciences Research Council (EPSRC), part of UK Research and Innovation, is the main funding body for engineering and physical sciences research in the UK. By investing in research and postgraduate training, we are building the knowledge and skills base needed to address the scientific and technological challenges facing the nation.
Our portfolio covers a vast range of fields from healthcare technologies to structural engineering, manufacturing to mathematics, advanced materials to chemistry. The research we fund has impact across all sectors. It provides a platform for future UK prosperity by contributing to a healthy, connected, resilient, productive nation.