View all news
Credit card-sized soft pumps power wearable artificial muscles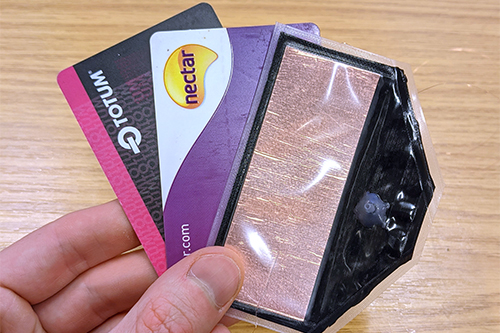 Press release issued: 17 February 2021
Robotic clothing that is entirely soft and could help people to move more easily is a step closer to reality thanks to the development of a new flexible and lightweight power system for soft robotics.
The discovery by a team at the University of Bristol could pave the way for wearable assist devices for people with disabilities and people suffering from age-related muscle degeneration. The study is published today [17 February] in Science Robotics.
Soft robots are made from compliant materials that can stretch and twist. These materials can be made into artificial muscles that contract when air is pumped into them. The softness of these muscles makes then suited to powering assistive clothing. Until now, however, these pneumatic artificial muscles have been powered by conventional electromagnetic (motor-driven) pumps, which are bulky, noisy, complex and expensive.
Researchers from Bristol's SoftLab and Bristol Robotics Laboratory led by Jonathan Rossiter, Professor of Robotics, have successfully demonstrated a new electro-pneumatic pump that is soft, bendable, low-cost and easy to make.
In the paper the team describe how the new credit card-sized soft pump can power pneumatic bubble artificial muscles and pump fluids. The team also outline their next steps to make power clothing a reality.
Professor Rossiter from the Department of Engineering Mathematics at Bristol and Head of the Soft Robotics group at BRL, said: "The lives of thousands of people with mobility issues could be transformed with this new technology. The new pumps are an important development that will help us deliver comfortable, and stylish, power-assisting clothing.
"We are now working to make the electro-pneumatic pumps smaller and more efficient and are actively seeking partners to commercialise the technologies."
Paper
'Electro-pneumatic pumps for soft robotics', by Diteesawat RS, Helps T, Taghavi M, Rossiter J in Science Robotics
Further information
About Bristol Robotics Laboratory (BRL)
Bristol Robotics Laboratory (BRL) is the most comprehensive academic centre for multi-disciplinary robotics research in the UK. It is a collaborative partnership between the University of Bristol and the University of the West of England (UWE Bristol), and home to a vibrant community of over 300 academics, researchers and industry practitioners. Together, they are world leaders in current thinking on service robotics, intelligent autonomous systems and bio-engineering. An internationally recognised Centre of Excellence in Robotics, BRL's state-of-the-art facilities cover an area of over 4,600 sq. metres (50,000 sq. feet).
About the School of Computer Science, Electrical and Electronic Engineering, and Engineering Maths (SCEEM)
The school provides opportunities to make an impact through creating technology that changes our world. Our strengths in connectivity, computation, AI, cybersecurity, interaction, vision, robotics, energy management, and simulation equip our graduates to create solutions to challenges in health, sustainability, and urban life.
The inclusive community is a space for co-creation of education and research.
The school offers a range of undergraduate courses and postgraduate courses.