View all news
University of Bristol launches interactive platform to connect new students and staff to the city's diverse heritage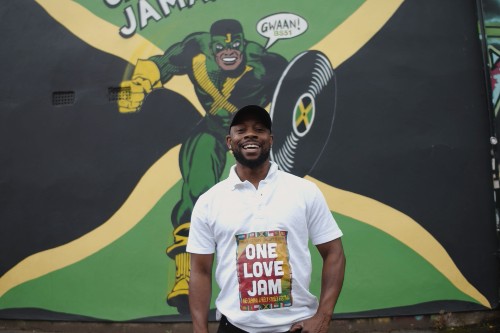 Press release issued: 29 September 2020
The University of Bristol, together with CARGO – a collective of artists, poets and filmmakers – has launched a digital platform aimed at connecting new students and staff with the diversity of the city of Bristol.
The UniversalCity platform, which is the first of its kind in the UK, provides staff and students the opportunity to virtually explore the city via an interactive map. The map showcases African and African Diaspora-owned businesses, community organisations and explores the heritage and history of key points of interest around the city.
The UniversalCity initiative is part of the University's civic work to critically engage with the history and diversity of the university and the city while strengthening its relationship with Bristol's local communities.
As well as encouraging students and staff to join in voluntary work to support local communities alongside social distancing guidelines, the platform is also running a competition for students who visit the African and African Diaspora-owned businesses.
The website went live today [Wednesday 30 September] with a virtual launch for all first-year students. It featured a film depicting the diversity and history of Bristol through the voices of ordinary Bristolians, alongside musical performances from Bristolian artists.
Professor Judith Squires, Provost and Deputy Vice Chancellor, said: "This exciting new initiative offers our students and staff new and rich opportunities to engage in, and with, our city - in all its wonderful diversity.
"I am thrilled that we have been able to work so productively with CARGO to open up new possibilities for socially-engaged inclusive education, and to foster deeper links with diverse communities across the city."
Bristol Poet Lawrence Hoo, whose poem forms the central story in the launch film, said: "It has been a pleasure to work with the University in developing this new digital platform. It will help to break through the invisible borders of culture and class which historically segregate Bristol's communities, so being able to highlight Bristol's heritage in this way is not only a great opportunity for CARGO, but for the residents of the city too."
Bristol businesses and organisations are encouraged to email uob-universal-city@bristol.ac.uk if they would like to be included in the Universal City map.
Further information
CARGO Movement: Background
CARGO Movement is a creative collective developing digital heritage resources for public and education settings. These include the "CARGO Classroom" learning tools and The Peoples Platform (peoplesplatform.co.uk), an interactive public art experience. CARGO's founders have long been dedicated to broadening Bristol's understanding of its History in relation to the Transatlantic Slave Trade and its living legacy, which continues to shape the lives of Bristolians today. CARGO projects are designed to inspire all communities to connect with one another on equal terms, to bring missing narratives to light, and to visualise a future full of pride and possibility.
CARGO Creative Team
Lawrence Hoo, Writer, Executive Producer
Lawrence Hoo is an internationally published poet. In 2018 Lawrence was awarded an MTM Award for services to the Arts in Bristol, and a RISE award for Arts, Community and Entertainment. His storytelling is influenced by the impact of social imbalance on minority communities.
Chaz Golding, Creative Director
Senior Creative at Bristol/London design agency Hello Charlie, which creates visual media for broadcast and live events to the highest professional standards. Chaz has collaborated with the National Theatre, Kanye West, BAFTA and the MTV Awards.
Massive Attack, Creative Partner
Massive Attack are CARGO's Creative Partners and have been a pioneering, globally celebrated Bristolian band since the early 90s, selling over 11 million copies of their music worldwide.
CARGO is a response to:
1. A national public will to address Britain's connection with the slave trade
2. Inequalities in cultural engagement statistics, in representation in the UK curriculum and in representation within the UK heritage workforce.