View all news
Bristol embarks on a new partnership with India's Krea University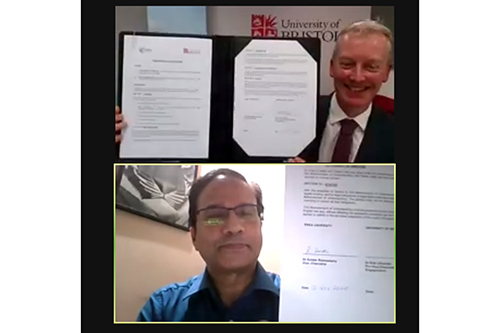 Press release issued: 26 November 2020
The University of Bristol has formalised an agreement to collaborate with Krea University in India, focusing on the fields of sciences and humanities.
In the first instance, the Memorandum of Understanding (MoU) will see students complete a three-year bachelor's degree at Krea before starting a master's programme on a number of Bristol's flagship courses (known as a 3+1).
The focus initially will be on courses in Environmental Policy and Management, Innovation and Entrepreneurship, Public Policy, Economics, Economics and Finance, Economics, Finance and Management, Management (International Business) and Business Analytics.
Krea University is a young, liberal arts and science-focused institution, located in Sri City, a smart, business city located north of Chennai. Krea was founded in 2018 by a team of global academicians, industrialists, and intellectuals, and with its pioneering 'Interwoven Learning' approach, aims to enable students to become agile, ethical, and purposeful leaders in a fast-changing world. 
Following a discussion on the aims for the partnership and identification of mutually beneficial areas for future collaboration, the MoU was signed virtually by Dr Erik Lithander, Pro Vice-Chancellor (Global Engagement) at the University of Bristol, and Dr Sunder Ramaswamy, Vice-Chancellor of Krea University.
Dr Lithander said: "We are very proud to be signing a Memorandum of Understanding with Krea University today and are excited to develop links with such an innovative, forward thinking institution. It symbolises the start of an important partnership, which will undoubtedly benefit student and academic communities on both sides."
Dr Ramaswamy added: "The University of Bristol with their significant strengths in cutting-edge disciplines within humanities and sciences, bring a new dimension of engagement for our students, faculty and research centres. This collaboration will find many avenues for growth in the years to come."
Further information
About Krea University
Krea University, with a pioneering approach of interwoven learning is located in Sri City, 55 kms north of Chennai. Instituted by a team of global academicians, industrialists and intellectuals with a vision for the 21st Century and beyond, Krea is an effort to re-imagine the education system, aiming to enable students to become agile, ethical and purposeful leaders in this fast-changing world.  
Krea University currently houses two Schools, the School of Interwoven Arts and Sciences and the Graduate School of Business, and provides strategic oversight to research centres, including LEAD (Leveraging Evidence for Access and Development) with Initiative for What Works to Advance Women and Girls in the Economy (IWWAGE), Inclusive Cashless Payment Partnership (CATALYST) and Evidence for Policy Design (EPoD) India;  Centre for Digital Financial Inclusion (CDFI) and the Abdul Latif Jameel Poverty Action Lab (J-PAL South Asia).