View all news
Spread Germ Defence, not the virus!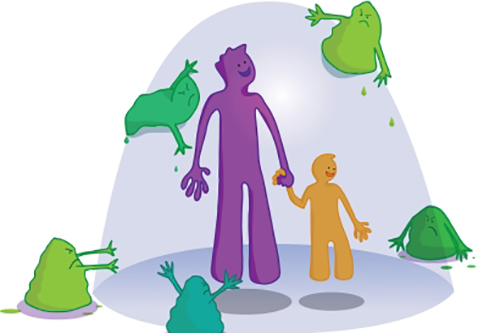 Press release issued: 25 November 2020
With Covid-19 infections still high and people preparing for Christmas gatherings, it is vitally important to try to reduce the spread of infection in people's homes as this is where infections are now most likely to be transmitted. Research suggests people who follow the advice from Germ Defence are less likely to catch flu or other viruses and less likely to pass it on to members of their household.
Germ Defence [freely available from www.germdefence.org/] is the only web-based advice in the world that has been scientifically proven to work against respiratory infections. In a Lancet study of over 20,000 people, using Germ Defence reduced the spread of swine flu and seasonal flu in the home.
Germ Defence provides personalised advice on how to protect everyone in the household from infection. The website has been updated for Covid-19 by a team of health researchers at Bristol, Southampton and Bath universities, working with members of the public and Public Health England, and with funding from National Institute for Health Research (NIHR) and UK Research Institute (UKRI).
Earlier this month Germ Defence reached the milestone of the first 100,000 users, who gave it an average rating of eight out of ten for usefulness.
Professor Lucy Yardley, who led the development of Germ Defence and is Theme Lead for the NIHR Health Protection Research Unit in Behavioural Science and Evaluation at the University of Bristol, said: "Many people don't realise that there are simple things they can do that will really reduce the risk of virus in the home. Germ Defence can help everyone and includes advice on what to do if someone in the household may be infected, or could become very ill if they are infected."
Dr Jeremy Horwood, Associate Professor in Social Sciences and Health from NIHR Applied Research Collaboration West (ARC West) at the University of Bristol, added: "The updated Covid-19 version of Germ Defence helps people understand what measures to take in the home and how to adopt habits that will help to avoid infection. By rolling out Germ Defence we hope it could help save lives by reducing the spread of the Covid-19."
Dr Ben Ainsworth, from the Department of Psychology at the University of Bath who is leading the adaptation of Germ Defence for Covid-19, explained: "The advice in Germ Defence has been tested with help from many public volunteers, working together with scientists, doctors and health experts, to make sure the advice and tips are as understandable and useful as possible. It's available in more than 25 languages and is constantly updated as new scientific evidence and research comes out."
Sascha Miller, who has been working with members of the public to make sure the advice is useful to them, said: "With winter and Christmas coming, we know that people are keen to learn how to make their home as safe as possible for all the family. Germ Defence provides practical advice on things like ventilation and social distancing to help people spend time together."
Cathy Rice, a member of the public who is part of the Germ Defence team, added: "It's easy to feel overwhelmed when trying to protect ourselves and our families against Covid-19, but Germ Defence gives simple steps that really work. It only takes 10 minutes, it's backed up by science, and it's something everyone can do. Go to it!'"
Anonymous feedback from users includes:
Good website, simple clear and easy to understand.
It was very easy to follow, broken up into sections, and interactive which also helps.
I have found your 'germ defence' pages very useful thought provoking.
Gives people positive thing to do to keep themselves and their families safe.
It reinforces easy ways that most of us can do to reduce infection.
I am a family carer and sent the link to both my mother who is shielding and my 23-year-old son... he has been watching my efforts over the past weeks. He won't be told anything by me, so your website is a great way to get the message across.
Further information
About the National Institute for Health Research
The National Institute for Health Research (NIHR) is the UK's largest funder of health and care research. The NIHR:
Funds, supports and delivers high quality research that benefits the NHS, public health and social care
Engages and involves patients, carers and the public in order to improve the reach, quality and impact of research
Attracts, trains and supports the best researchers to tackle the complex health and care challenges of the future
Invests in world-class infrastructure and a skilled delivery workforce to translate discoveries into improved treatments and services
Partners with other public funders, charities and industry to maximise the value of research to patients and the economy
The NIHR was established in 2006 to improve the health and wealth of the nation through research, and is funded by the Department of Health and Social Care. In addition to its national role, the NIHR commissions applied health research for the direct and primary benefit of people in low- and middle-income countries, using UK aid from the UK government.
About the NIHR Health Protection Research Unit in Behavioural Science and Evaluation at University of Bristol
The Health Protection Research Unit (HPRU) in Behavioural Science and Evaluation at University of Bristol is part of the National Institute for Health Research (NIHR) and a partnership between University of Bristol and Public Health England (PHE), in collaboration with the MRC Biostatistics Unit at University of Cambridge and University of the West of England. We are a multidisciplinary team undertaking applied research on the development and evaluation of interventions to protect the public's health. Our aim is to support PHE in delivering its objectives and functions.
Follow us on Twitter: @HPRU_BSE
About the NIHR Applied Research Collaboration West (ARC West)
The NIHR Applied Research Collaboration West (ARC West) conducts applied health research with its partners and others in the health and care sector, alongside patients and members of the public. Applied health research aims to address the immediate issues facing the health and social care system. ARC West also helps bring research evidence into practice and provides training for the local workforce.
Follow us on Twitter: @ARC_West
Support University of Bristol's COVID-19 research
Bristol's researchers are part of a global network of scientists responding urgently to the challenge of the coronavirus pandemic.
Find out how you can support their critical work
Bristol UNCOVER Group
In response to the COVID-19 crisis, researchers at the University of Bristol formed the Bristol COVID Emergency Research Group (UNCOVER) to pool resources, capacities and research efforts to combat this infection.
Bristol UNCOVER includes clinicians, immunologists, virologists, synthetic biologists, aerosol scientists, epidemiologists and mathematical modellers and has links to behavioural and social scientists, ethicists and lawyers.
Follow Bristol UNCOVER on Twitter at: @BristolUncover
For more information about the University of Bristol's coronavirus (COVID-19) research priorities visit: http://www.bristol.ac.uk/research/impact/coronavirus/research-priorities/
Bristol UNCOVER is supported by the Elizabeth Blackwell Institute
Find out more about the Institute's COVID-19 research looking into five key areas: virus natural history, therapeutics and diagnostics research; epidemiology; clinical management; vaccines; and ethics and social science.