View all news
People more likely to choose a non-alcoholic drink when availability is greater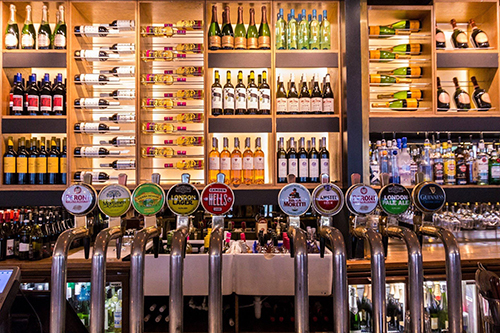 Press release issued: 6 May 2020
People are more likely to choose non-alcoholic drinks if more of those drinks are available than alcoholic alternatives, a University of Bristol-led online experiment published today [6 May] in BMC Public Health has shown. These results could pave the way for increasing the availability of non-alcoholic options in pub and bars.
More than 800 adults who drink alcohol every week took part in an online experiment designed by researchers from the National Institute for Health Research (NIHR) Bristol Biomedical Research Centre (BRC), the University of Bristol and the University of Cambridge. The experiment consisted of a hypothetical drink selection task, where participants were given one of four different conditions in which to make their selections.
Results showed that when the proportion of non-alcoholic drinks available was greater than alcoholic drinks, 49 per cent of participants chose a non-alcoholic drink, including soft drinks and alcohol-free beer. When the proportion of alcoholic drinks available was greater than non-alcoholic alternatives, this dropped to 26 per cent.
The odds of participants selecting a non-alcoholic drink were 48 per cent higher when the proportion of non-alcoholic options was increased and 71 per cent higher when both the total number and proportion of non-alcoholic options were increased.
In real-world settings, like at a busy bar, people are likely to make drink choices quickly. However, the online study showed no evidence that giving some participants a time limit to make their selection affected which drink they chose.
Drinking alcohol is among the top five risk factors for disease in the UK, with excessive alcohol consumption contributing to over one million hospital admissions and costing the NHS £3.5 billion every year. Finding ways to encourage drinkers to switch to non-alcoholic alternatives is an important step towards improving public health.
The researchers are now planning a study in a real-world setting, which will examine the impact introducing alcohol-free beer on draught in pubs in Bristol has on alcohol purchasing and consumption.
Dr Anna Blackwell, Senior Research Associate in Behaviour Change in the School of Psychological Science, who led the online study, said: "Non-alcoholic drink options are often less prominent in restaurants, pubs and bars. For example, many offer at least one type of alcohol-free beer, but as this is often bottled and kept in the fridge behind the bar, there is greater effort required for customers to choose this option over an alcoholic beer available on draught. In addition, previous qualitative research has suggested that people experience peer pressure to drink alcohol, so offering alcohol-free alternatives that look like alcoholic drinks would make it easier for people to choose these options.
"In the longer-term, widening the choice available for customers and increasing exposure to non-alcoholic drinks could help shift social norms around drinking these products. Given the growing market for alcohol-free beer, wine and spirits, this sort of intervention is timely and of interest not only to policy makers, but also licence holders and drinks manufacturers."
Marcus Munafò, Professor of Biological Psychology from the NIHR Bristol BRC and the University of Bristol, presented findings from the online study to Bristol City Council's health and wellbeing board on 27 February.
He said:"Implementing these findings in the real-world will take some thought and will need to involve discussions with pubs and bars to ensure it is viable. But there is growing interest in measures that would serve to increase choice and encourage healthier behaviour. More and more pubs and bars are offering alcohol-free beer on draught. If the results of our online study are replicated in a real-world setting, this would suggest that efforts to increase the availability of alcohol-free options could have a positive impact on public health."
Paper
'The impact on selection of non-alcoholic vs alcoholic drink availability: an online experiment' by Anna KM Blackwell, Katie De-loyde, Gareth J Hollands, Richard W Morris, Laura A Brocklebank, Olivia M Maynard, Paul C Fletcher, Theresa M Marteau, Marcus R Munafò in BMC Public Health
Further information
About the National Institute for Health Research
The National Institute for Health Research (NIHR) is the nation's largest funder of health and care research. The NIHR:
Funds, supports and delivers high quality research that benefits the NHS, public health and social care
Engages and involves patients, carers and the public in order to improve the reach, quality and impact of research
Attracts, trains and supports the best researchers to tackle the complex health and care challenges of the future
Invests in world-class infrastructure and a skilled delivery workforce to translate discoveries into improved treatments and services
Partners with other public funders, charities and industry to maximise the value of research to patients and the economy
The NIHR was established in 2006 to improve the health and wealth of the nation through research, and is funded by the Department of Health and Social Care. In addition to its national role, the NIHR commissions applied health research for the direct and primary benefit of people in low- and middle-income countries, using UK aid from the UK government.
About NIHR Bristol BRC
The National Institute for Health Research Bristol Biomedical Research Centre (NIHR Bristol BRC) is a partnership between University Hospitals Bristol NHS Foundation Trust and the University of Bristol. We are one of 20 BRCs across England funded by the National Institute for Health Research (NIHR).
The Bristol BRC launched in April 2017. We conduct innovative biomedical research to drive through improvements in health and healthcare and encourage closer working with industry.
We have world-leading scientists working on many aspects of health, from the role played by individual genes and proteins to analysing large collections of information on hundreds of thousands of people. We have extensive experience in taking science from the laboratory bench or computer and developing it into new drugs, treatments or health advice.
What sets the Bristol BRC apart is the strand of exciting and ground-breaking population health research that runs through it. This is about examining patterns of health and illness in large groups of people. We have expertise in interpreting this information to learn about causes of disease. Uniquely, we can combine this work with our laboratory-based science and the knowledge of the doctors working directly with patients to identify possible treatments and find out how effective they are.
Behaviour Change by Design
Dr Anna Blackwell and Professor Marcus Munafò are both members of the 'Behaviour Change by Design' team, which is a collaborative programme of work conducted by the Universities of Bristol and Cambridge. This work is funded by a Collaborative Award in Science from the Wellcome Trust (206853/Z/17/Z), awarded to Theresa Marteau, Paul Fletcher, Gareth Hollands (University of Cambridge) and Marcus Munafò (University of Bristol). The funder was not involved in the study design or data analysis.
Further information can be found on the programme website: www.behaviourchangebydesign.iph.cam.ac.uk/