View all news
People with diabetes needed for study to support people during COVID-19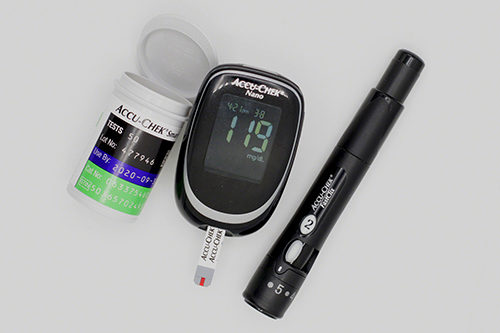 Press release issued: 29 June 2020
A new research project is asking for people with diabetes and their carers to take part in a UK-wide online survey that aims to identify how to best support people with the condition during the pandemic.
The study, led by the University of Bristol and supported by Diabetes UK, is funded by the Elizabeth Blackwell Institute and is being carried out in response to the COVID-19 pandemic and the cancellation of face-to-face diabetes education, routine check-up appointments, and peer support groups due to the government's distancing measures. The project will assist Diabetes UK in making decisions on the type of support people with diabetes currently need and how it should be provided.
The project also aims to digitalise originally face-to-face peer support groups for people with diabetes, not currently possible due to social and physical distancing measures. This will enable the continuity of mutual support networks.
The research team plans to help three Bristol-based diabetes peer support groups digitalise their meetings via their computers or mobile phones. If found to be beneficial for wellbeing and diabetes management, the framework will be distributed to more than 300 diabetes groups around the country.
Dr Sarah Sauchelli Toran, Senior Research Associate at the University of Bristol and the NIHR Bristol Biomedical Research Centre (NIHR Bristol BRC - Nutrition), said: "For most people living with diabetes coronavirus is a mild illness but during the pandemic we have learnt that some may be more vulnerable to developing the severe form of the illness if they do get the virus.
"Diabetes-related concerns have led to weekly calls to the Diabetes UK helpline doubling during lockdown. Through our research we aim to help Diabetes UK identify and address the needs of people with diabetes during the government's response to the pandemic. We are especially keen to hear from black, Asian and minority ethnic (BAME) communities, who are more likely to have type 2 diabetes and are at a greater risk of severe illness from the virus."
The aims of the project are:
To identify the key concerns of people with diabetes regarding diabetes self-management during the coronavirus pandemic and to assist Diabetes UK to make decisions on the type of support people with diabetes currently need and how it should be provided.
To assess the feasibility of providing the Diabetes UK peer support group meetings via a digital platform.
In the long run, a digital platform for peer support could be used for people with diabetes who have limited access to the traditional form of peer support group meetings, such as people with mobility issues and people with caring responsibilities.
The survey is completely anonymous. Participation in the study is voluntary and participants will have the right to withdraw at any point.
People will be asked to complete a survey with questions about their wellbeing, the sources used to obtain information/advice/support, opinions on the advice people with diabetes are receiving, and any improvements people would like to see in relation to guidance/advice.
Survey responses will be grouped according to diabetes type. This will enable Diabetes UK to provide support that is tailored to the specific needs of people with different types of diabetes.
Adults aged 18 years or over who have a diagnosis of diabetes can participate along with parents, carers or partners of people with diabetes.
To take part in the survey, visit Diabetes support during the coronavirus pandemic survey.
Further information
The EBI-funded project 'Digitalising diabetes support groups in response to the coronavirus COVID-19 outbreak' will run until 31 August 2020.
About Elizabeth Blackwell Institute
Nurturing research. Improving health.
The Elizabeth Blackwell Institute drives innovation in research to improve health for all. It nurtures interdisciplinary research to address the complex health challenges facing us today.
The institute focuses on:
Supporting the next generation of health researchers
Connecting people to develop interdisciplinary research
Including everyone in research so the research can benefit all.
As well as supporting research with funding the Elizabeth Blackwell Institute is also helping to connect research up across the University as a whole, so that people working on COVID-19 have the chance to work together, sharing resources and expertise. This aligns with the work that the Institute already supports to galvanise research across disciplines and groups, through research networks and thematic strands, ranging from Infection and Immunity to Medical Humanities.
About Diabetes UK
1. Diabetes UK's aim is creating a world where diabetes can do no harm. Diabetes is the most devastating and fastest growing health crisis of our time, affecting more people than any other serious health condition in the UK - more than dementia and cancer combined. There is currently no known cure for any type of diabetes. With the right treatment, knowledge and support people living with diabetes can lead a long, full and healthy life. For more information about diabetes and the charity's work, visit www.diabetes.org.uk
2. Diabetes is a condition where there is too much glucose in the blood because the body cannot use it properly. If not managed well, both type 1 and type 2 diabetes can lead to devastating complications. Diabetes is one of the leading causes of preventable sight loss in people of working age in the UK and is a major cause of lower limb amputation, kidney failure and stroke.
3. People with type 1 diabetes cannot produce insulin. About 10 per cent of people with diabetes have type 1. No one knows exactly what causes it, but it's not to do with being overweight and it isn't currently preventable. It's the most common type of diabetes in children and young adults, starting suddenly and getting worse quickly. Type 1 diabetes is treated by daily insulin doses – taken either by injections or via an insulin pump. It is also recommended to follow a healthy diet and take regular physical activity.
4. People with type 2 diabetes don't produce enough insulin or the insulin they produce doesn't work properly (known as insulin resistance). Around 90 per cent of people with diabetes have type 2. They might get type 2 diabetes because of their family history, age and ethnic background puts them at increased risk. They are also more likely to get type 2 diabetes if they are overweight. It starts gradually, usually later in life, and it can be years before they realise they have it. Type 2 diabetes is treated with a healthy diet and increased physical activity. In addition, tablets and/or insulin can be required.
For more information on reporting on diabetes, download our journalists' guide: Diabetes in the News: A Guide for Journalists on Reporting on Diabetes (PDF, 3MB).
About the National Institute for Health Research
The National Institute for Health Research (NIHR) is the nation's largest funder of health and care research. The NIHR:
Funds, supports and delivers high quality research that benefits the NHS, public health and social care
Engages and involves patients, carers and the public in order to improve the reach, quality and impact of research
Attracts, trains and supports the best researchers to tackle the complex health and care challenges of the future
Invests in world-class infrastructure and a skilled delivery workforce to translate discoveries into improved treatments and services
Partners with other public funders, charities and industry to maximise the value of research to patients and the economy
The NIHR was established in 2006 to improve the health and wealth of the nation through research, and is funded by the Department of Health and Social Care. In addition to its national role, the NIHR commissions applied health research for the direct and primary benefit of people in low- and middle-income countries, using UK aid from the UK government.
About NIHR Bristol Biomedical Research Centre (NIHR Bristol BRC)
NIHR Bristol Biomedical Research Centre's (BRC) innovative biomedical research takes science from the laboratory bench or computer and develops it into new drugs, treatments or health advice. Its world-leading scientists work on many aspects of health, from the role played by individual genes and proteins to analysing large collections of data on hundreds of thousands of people. Bristol BRC is unique among the NIHR's 20 BRCs across England, thanks to its expertise in ground-breaking population health research.
Support our COVID-19 research
Bristol's researchers are part of a global network of scientists responding urgently to the challenge of the coronavirus pandemic.