View all news
Research project to investigate low-cost, rapid, COVID-19 detection system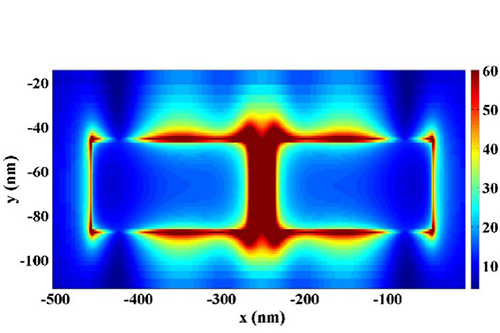 Press release issued: 23 June 2020
The World Health Organisation has regularly said that rapid testing of patients with COVID-19 is critical to controlling the pandemic, especially with lockdown measures easing across the globe. A new research project will explore the development of a low-cost, rapid, COVID-19 diagnosis system using nanophotonic fluorescence enhancement.
The pilot study led by academics at the University of Bristol will use simulant fluorescently labelled RNA to develop an assay for the detection of coronavirus.
Professor Martin Cryan, principal investigator for the project, has been working in this field for many years and has shown how very small antennas, known as nanoantennas, can enhance the amount of light given out by fluorophores, which can dramatically improve the sensitivity of biosensors.
The research project involves collaboration from the University of Cardiff who are developing DNA and RNA extraction techniques for pathogen detection.
Martin Cryan, Professor of Applied Electromagnetics and Photonics in the Department of Electrical and Electronic Engineering at the University of Bristol, said: "The development of a rapid, low-cost test for COVID-19 is of critical importance for tackling this pandemic. We think our approach is also flexible enough to be used in any future pandemics.
"We would like to thank the Elizabeth Blackwell Institute for giving us the opportunity to bid for this MRC Confidence in Concept (CiC) funding."
Future projects will team up with Cardiff and commercial partners to develop a complete microfluidics-based approach that could lead to a handheld device for use in GP surgeries and hospital wards.
The Elizabeth Blackwell Institute-funded project 'Feasibility study for microfluidic fluorescence-based diagnosis system for COVID-19' will run until 31 January 2021.
Further information
About Elizabeth Blackwell Institute
Nurturing research. Improving health.
The Elizabeth Blackwell Institute drives innovation in research to improve health for all. It nurtures interdisciplinary research to address the complex health challenges facing us today.
The institute focuses on:
Supporting the next generation of health researchers
Connecting people to develop interdisciplinary research
Including everyone in research so the research can benefit all.
As well as supporting research with funding the Elizabeth Blackwell Institute is also helping to connect research up across the University as a whole, so that people working on COVID-19 have the chance to work together, sharing resources and expertise. This aligns with the work that the Institute already supports to galvanise research across disciplines and groups, through research networks and thematic strands, ranging from Infection and Immunity to Medical Humanities.
About the Bristol UNCOVER group
In response to the COVID-19 crisis, researchers at the University of Bristol formed the Bristol COVID Emergency Research (UNCOVER) Group to pool resources, capacities, and research efforts to combat this infection.
Bristol UNCOVER includes clinicians, immunologists, virologists, synthetic biologists, aerosol scientists, epidemiologists and mathematical modellers and has links to behavioural and social scientists, ethicists and lawyers and is supported by a large number of junior academic and administrative colleagues.
Follow Bristol UNCOVER on Twitter at: https://twitter.com/BristolUncover
For more information about the University of Bristol's coronavirus (COVID-19) research priorities visit: www.bristol.ac.uk/research/impact/coronavirus/research-priorities
Bristol UNCOVER is supported by the Elizabeth Blackwell Institute
Find out more about the Institute's COVID-19 research looking into five key areas: virus natural history, therapeutics and diagnostics research; epidemiology; clinical management; vaccines; and ethics and social science.
About the Medical Research Council (MRC) CiC
The Confidence in Concept (CiC) scheme is a key part of MRC's translational research strategy and provides annual awards of up to £1 million to institutions to flexibly support a portfolio of early stage translational research projects. It is intended to accelerate the transition from discovery research to translational development projects by supporting preliminary work or feasibility studies to establish the viability of an approach.

Support our COVID-19 research
Bristol's researchers are part of a global network of scientists responding urgently to the challenge of the coronavirus pandemic.