View all news
Professor Kathleen Kennedy awarded British Academy Global Professorship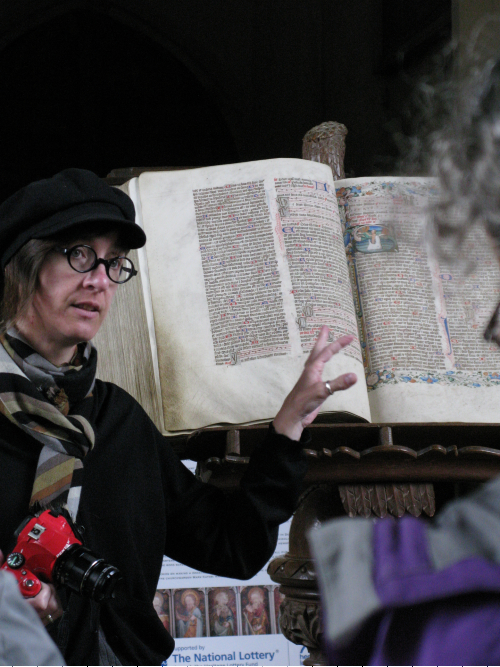 10 July 2020
Professor Kathleen Kennedy will be joining the University to work with Bristol's Centre for Medieval Studies.
Professor Kathleen Kennedy, currently at Penn State University Brandywine, will be joining the University of Bristol's Centre for Medieval Studies for four years from 1 January 2021, thanks to a British Academy Global Professorship.
This British Academy scheme brings leading researchers from across the globe to British universities to collaborate with colleagues in the UK on pioneering programmes of research.
Professor Kennedy specialises in medieval English history and the history of the book. Her publications include
The Courtly and Commercial Art of the Wycliffite Bible
(2014) and
Medieval Hackers
(2015).
During her tenure as British Academy Global Professor, Kathleen Kennedy will be working on two major projects. The first is a study of 15th-century English book design, examining how English book producers of the period participated in the aesthetic innovations of the Renaissance. The second is a catalogue of manuscripts and fragments scattered across various libraries in the city of Bristol, including Bristol University Library and Bristol Central Library. She will also be curating a public exhibition to showcase the manuscripts in Bristol collections.
Professor Ad Putter, Co-Director of the Centre for Medieval Studies, said: "We are all thrilled to hear this news and are immensely grateful to the British Academy. The award is a recognition of the exceptional talents of Kathleen Kennedy and of my colleagues at the Centre for Medieval Studies. We all look forward to welcoming Kathleen and to working with her on the medieval manuscripts of the city of Bristol."
Further information
The British Academy Global Professorships
With the Global Professorships, the Academy is looking to support academics that are proposing ambitious applications that break new ground. The Academy views the Global Professorships as an opportunity to undertake high-risk, curiosity-driven research in the humanities and social sciences that enables the award-holders and their UK host institutions to achieve a step change in their respective research programmes.
The Global Professorships are expected to add significant value to the UK host institutions and vice versa, and thus the projects must be significant, leading to novel and innovative collaborations. Each appointment is intended to be a complete project in itself and is expected to involve a specific research focus.