View all news
Bristol academic appointed Global Health Challenge Leader by UKRI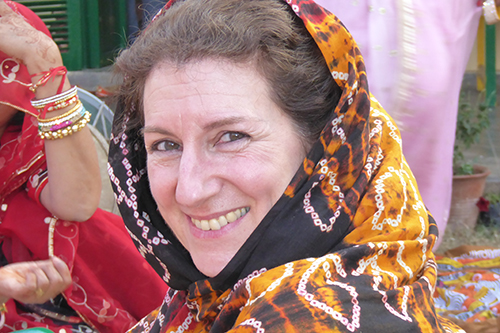 Press release issued: 11 February 2020
An academic from the University of Bristol has been appointed a Global Health Challenge Leader by UK Research and Innovation (UKRI) and will join the flagship international development research scheme, the Global Challenges Research Fund (GCRF).
Helen Lambert, Professor of Medical Anthropology in the Bristol Medical School: PHS, has taken up the role GCRF Challenge Leader for Global Health. Professor Lambert has a background of research into antimicrobial resistance, HIV prevention with vulnerable communities, and the social and cultural dimensions of health systems.
Professor Lambert said: "Over the last few years I have become increasingly convinced that to deal with global health challenges, we really need to work across international boundaries and disciplines, and that's exactly what the Global Challenges Research Fund is all about.
"The current Coronavirus outbreak highlights the need and urgency to boost international, multidisciplinary partnerships as combining on-the-ground expertise with specialist skills and knowledge are essential for understanding and tackling contemporary health challenges."
Professor Lambert is joining the team of GCRF Challenge Leaders, who are maximising the impact of the GCRF across six portfolio areas: global health, food systems, resilience, cities and sustainable infrastructure, education and protracted conflict and refugees.
Their role is to forge diverse and exciting equitable partnerships between UK researchers and academics, policy makers and community groups across developing countries to ensure that GCRF funded research responds to the needs of poorer countries and moves the world closer towards achieving the UN Sustainable Development Goals.
Professor Lambert added: "I'm particularly proud that this announcement is being made on the United Nations' International Day for Women and Girls in Science. As a female social scientist working in global health, I know how crucial it is to promote gender equality in all aspects of science, research and innovation by getting more women and girls into these fields. The Global Health 50/50 initiative found that across almost 200 global health organisations, less than 30 per cent had gender parity in their senior management. Institutional change is needed at every level."
Professor Helen Fletcher, UKRI's Director of International Development and former GCRF Challenge Leader for Global Health, said: "We are delighted to have such a highly esteemed, experienced and dedicated researcher joining our dynamic team of Challenge Leaders to help drive forward research in global health.
"We live in an interconnected world and challenges that impact on one country, will ultimately impact on us all, no matter where we live, be it conflict resulting in a refugee crisis, natural disasters resulting in food shortages or a new virus developing into a global epidemic.
"Helen is a fantastic edition to our Challenge Leader team and will work with them to ensure research for international development makes the world fairer, safer and more sustainable for all."