View all news
The Body is (not) Here - Franko B's Archive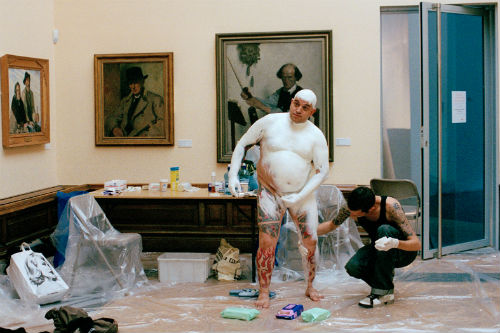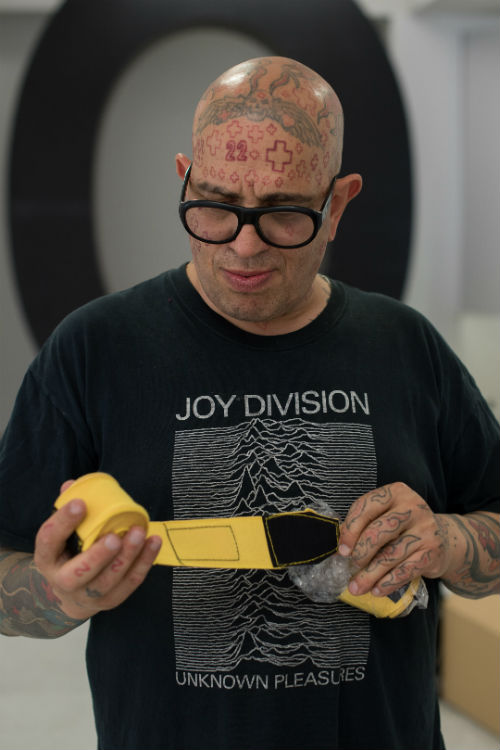 Press release issued: 11 February 2020
A new exhibition at the University of Bristol's Theatre Collection, which opens on Friday 14 February, explores the archive of the renowned visual artist, curator and teacher Franko B.
Franko donated his archive to the Theatre Collection in 2008 where it has recently been catalogued and conserved as part of a Wellcome Trust funded project.
Rising to international prominence with his extraordinary body-based performances in the 1990s, Franko's deeply autobiographical work presents the human body as both a site and a material.
This theme is visible throughout the exhibition via documentation of performances and exhibitions, captured in personal photographs, described in vivid detail within publicity material and press cuttings, or hinted at by its absence through objects, traces and the residue of performances.
Interweaving personal stories and universal themes – of pain, suffering, protest, life and love – The Body is (not) Here provides audiences with multiple encounters with Franko's body and the body of his archive, which like Franko's work, challenge the way we see, feel and experience the world around us; asking us to consider 'what it is to be human'.
Having spent periods of his childhood in care in Italy, Franko moved to London in 1979. His experiences of suffering, neglect, homelessness and marginalisation as an adolescent, and then as a gay man and punk living in London during the AIDS epidemic in the 1980s deeply influenced his practice.
Franko B is currently Professor of Sculpture at l'Accademia Albertina di Belle Arti di Torino in Turin, Italy and continues to be one of the most influential artists of his generation.
Jo Elsworth, Director of the Theatre Collection, said: "Franko first approached the Theatre Collection in 2008 when he was looking for a place to deposit his archive, and we were delighted to accept its subsequent donation.
"The rich and varied archive includes photographs and videos, textiles and objects, press and publicity materials, notes and correspondence relating to his work.
"It provides a unique insight into the professional practice of a leading artist who, over a period of 30 years, has created significant body of work spanning several different artforms.
"As well as being significant to the histories of live art and performance, the archive is of interest to medical humanities research including the limits of endurance of the human body, the impact of AIDS on society and creative responses to it, sexuality and taboos, vulnerability and nakedness, suffering and censorship."
Since Franko started collating his archive, he has been keen for other practitioners and researchers to access his collection. This has now been made possible by this project.
Franko has been involved with the project from the start, regularly visiting the Theatre Collection to work with the project team, providing unique insights into his practice and adding valuable detail to the catalogue descriptions.
Talking about his work in the exhibition, Franko B said: "This is for everybody. I'm glad it's here. To have an archive like this and now, with what the Theatre Collection has done, it's amazing and, for me, is quite emotional to realise that no thanks to me, but thanks to others, I exist somewhere; I will exist."
The exhibition is accompanied by a programme of free public events, including an 'in conversation' with the artist, a symposium on 'challenging' archives, a writing workshop, and a series of exhibition tours.
The Body is (not) Here is open from Friday 14 February to Friday 1 May [9.30am-5pm]. Entry is free but please be aware the exhibition contains adult themes and content, which may not be suitable for all audiences. Please contact the Theatre Collection if you would like to discuss content in advance of visiting.
Further information
The Theatre Collection was founded in 1951 to support the establishment of Drama as an academic discipline in the UK and has grown to become one of the world's leading collections relating to the history of British theatre and live art. The Theatre Collection comprises over 140 named collections and archives, including actors and collectors Raymond Mander and Joe Mitchenson.
It also holds artworks, audio visual material, costumes, designs, set models, playbills and programmes of this most ephemeral of art forms. The collections are particularly strong from the late 18th century onwards and document the onstage and offstage life of theatre. It provides a unique insight into theatre and live art, their creative processes and broader cultural contexts. The Theatre Collection's holistic approach to collecting across archives and objects, and the interconnectedness between the collections, make it an outstanding research resource.
Last month it was awarded Designated status by Arts Council England in recognition of its national significance.