View all news
Innovative health-coaching app for pregnant women is focus of newly-funded project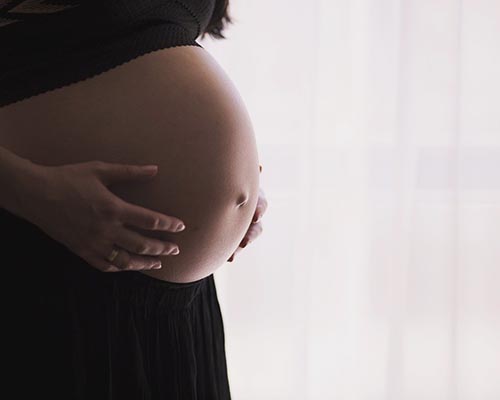 Press release issued: 26 February 2020
Bump2Baby and Me is a new project awarded funding from the EU's Horizon 2020 research and development programme. Led by researchers from the University College Dublin and the University of Bristol, this five-year project will address weight management during and after pregnancy.
The goal of the 'Bump2Baby and Me' project is to deliver implementable solutions for hospitals and health service providers to better support women during pregnancy and the critical first year, via health coaching on healthy eating and physical activity.
The €4.4 million project brings together a team of world-leaders in maternal and child health alongside a cutting-edge mobile health technology company. The team is looking to address the issues of obesity and overweight in pregnancy through an innovative app that links to a real health coach, tailoring weight management for each mum and helping them to give their baby the best start around feeding and active play. The study of the health coaching app is going to run in maternity hospitals in Ireland, the UK, Spain and Australia.
Project co-ordinator Dr Sharleen O'Reilly explained: "One in two pregnancies now have obesity or overweight issues, which are strongly linked to a risk of developing diabetes in the mother and children. We are therefore delighted to be funded and excited to work on research that will make a positive contribution to society."
Dr Christy Burden, Consultant Senior Lecturer, Obstetrics & Gynaecology at Bristol Medical School, said: "This study is vital to improve pregnancy and health outcomes for mother and babies worldwide. It will investigate support via health coaching on healthy eating and physical activity for women during pregnancy and in the first critical year post birth. The University of Bristol is the UK site for the trial and will lead the implementation planning work for the EU study."
Bump2Baby and Me is a five-year project with a total grant of €4 million from Horizon 2020 and additional funding from Australia. The project started on 1 January and a comprehensive website will be launched in May 2020. To keep up-to-date with the project's progress follow @bump2babyandme on Twitter.