View all news
Bristol Festival of Fiction: Immerse yourself in a world of words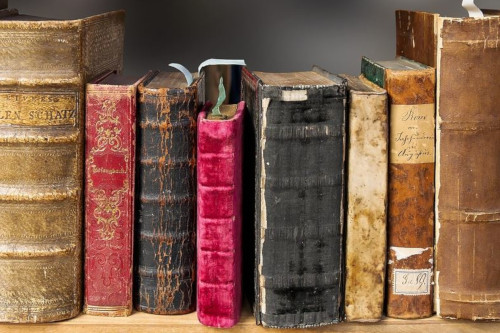 Press release issued: 3 September 2019
Fall in love with fiction and flex your literary muscles, at the University of Bristol's first ever Festival of Fiction taking place this month at the Priory Road Complex [20-22 September].
From Dickens to poetry in the garden, African and Caribbean writing, medieval Bristol and detective writing; the three-day festival offers a variety of courses to whet the literary appetite of anyone who loves to lose themselves within the pages of a book – with no qualifications necessary.
For those who enjoy wordsmithing or want to have a go, there are also sessions on creative writing. One for beginners and another which explores using the written word to capture your own personal world, whether that's the street you live on, or even the country you hail from.
Run by leading academics from the University's Department of English, this is a rare opportunity for written-word enthusiasts to enjoy and explore literature, guided by the insight of Bristol experts.
Programme: Friday 20 September 2019
"The Simple Art of Murder": Death and Detection in Classic Crime Fiction, Sian Harris (Fiction)
This course considers the enduring appeal of classic detective fiction, with a focus on writers from the British Golden Age and the American Hard-Boiled traditions, including Agatha Christie and Raymond Chandler. What factors shaped their approach to fiction, what 'rules' did they establish for the genre, and - perhaps more importantly - how often did they break them? We will have the chance to explore these contrasting styles, discuss their iconic protagonists, and chart their influence on later generations of writers.
Mothers and Authors: Women Writers in the Modern World, April Gallwey (Fiction)
How did women writers contribute to the making of modern knowledge and what new forms of womanhood did they create through storytelling? Women in the mid-nineteenth century gave birth on average to more than 6 children, by the end of the twentieth century, births declined to 1-2 children and childlessness was increasingly common. We will look at a selection of female novelists and poets from the nineteenth and twentieth centuries to uncover the history of women's radical relationship to authorship.
The Wild and the Tame: Poetry in the Garden, Jack Thacker (poet) (Creative Writing)
Drawing inspiration from the University's own Royal Fort Gardens, this workshop will encourage participants to consider the extent to which the garden is the ideal place to contemplate and write poems. After paying attention to shape, form and control in the work of other green-fingered poets, you will be given the opportunity to take to the lawn and have a go yourself. The workshop will allow for supportive workshopping of your work-in-progress and will end with a brief (voluntary) poetry reading.
Programme: Saturday 21 September 2019
The Literature of Medieval Bristol, Cathy Hume (Fiction)
On this short course we will read some extracts of poetry and prose written in and around medieval Bristol. 'Jacob and Joseph' is an emotional ballad written in 13th century Gloucestershire; 'Richard the Redeless' is a satirical poem set in Christ Church, Bristol; we will also look at texts by John Trevisa (who wrote at Berkeley Castle) and Margery Kempe (who visited on her way to Europe). No previous experience with Middle English is required, just an interest in medieval Bristol and its forgotten literature.
Dickensian Diseases: Charles Dickens from the Nineteenth Century to the Present Day, Joan Passey (Fiction)
What do we mean when we say something is 'Dickensian'? How is Dickens so associated with images of Victorian London? This day school explores the impact of Charles Dickens' work from the nineteenth century to the present day, from how we view illness to how we brand gin. It will investigate Dickens' earliest works to see how he developed into one of the nation's most celebrated authors, and how he both reported and shaped the world around him. We will focus on Dickens in context, and discuss illustrations, the industrial revolution, the gin craze, prison life, superstitions and spirits and much more.
Exploring Creative Writing Taster, Rachel Bentham (Creative writing)
Want to see what fun you can have with creative writing? Come to our beginners' workshop and try out different exercises to limber up your approach to writing in an informal and positive atmosphere. This will be a playful day of doing, thinking and talking about a range of writing including prose, flash fiction and poetry using a range of exercises and examples. Led by brilliant, prizewinning tutor, Rachel Bentham, who has published and broadcast work in prose, poetry and script and runs Bristol's regular series of Fiction Writing Workshops.
Bringing People Together Through Reading: From "Frankenstein" to "Bridget Jones", Katie Fuge
(Reading Group Workshop) Setting up a reading group can be an immensely rewarding experience. This session uses a real-life example to explore how social spaces can be built around shared reading and literature in ways that build self-confidence and inter-personal relationships. With practical advice on choosing different literature to discuss, as well as hints and tips on facilitating sessions, this course will aid those looking to establish new reading groups. Based on my personal experience of setting up and running a group for new mothers, using poems, extracts and short stories, the format is suitable for a wide range of purposes. Attendees will leave armed with ideas, along with a clear structure and a selection of useful literature, providing a head start on getting a group up and running. A Taster from one of the English Literature and Community Engagement BA's community-engaged projects
Programme: Sunday 22 September 2019
All About Emma, Stephen Derry (Fiction)
Jane Austen's "Emma" is a rom-com, a detective story, a picture of Regency England and a portrait of a lady, amongst other things. We will explore a range of issues arising from this beautiful, complex, and surprising novel.
The Art of Grief - Bereavement, Art and Literature, Anne Baden-Daintree (Fiction)
This day school explores the ways in which writers, poets and artists address grief and bereavement in their art. We will be reading and discussing extracts from memoir, fiction, poetry and visual art in order to understand how such authors and artists engage with the processes of mourning, the commemoration of the dead, and theoretical models of grief. Authors studied may include Milton, Hardy, Tennyson, Don DeLillo, Anne Carson, Carol Muske-Dukes, C.S. Lewis, Janet Paisley and Douglas Dunn.
Write your World: Bristolian, African and Caribbean writing Taster, Billy Kahora (Creative Writing)
The short story is an excellent form for writing your world – this could be either your street, neighbourhood, town, city or even county or region if not country. The short story also allows you to explore your imagination beyond what you observe around you. Using short fiction from Bristol in addition to examples from the Caribbean and the African continent, this one-day taster explores the possibilities of telling the story of your world by learning the techniques of the short story and applying them to your imagination and what you observe around you.
Bad faith, authenticity, and the life-world: connecting philosophy to fiction, Tina Williams
How do we experience the world? What gets in the way of us understanding ourselves and the people or things around us? On this course, we will explore how making links between fiction and philosophy can help us to examine our own lives and our relationships with those who are not like us (the Other). Using Arthur Miller's play 'All My Sons' and other contemporary fiction, we will think together about lived experienced through examples of the traumatised body and altered relationships to the world through anxiety, depression, and chronic illness. This will also uncover what, if anything, we owe to not just ourselves, but to others and the environment around us
Further information
All courses will take place at the Priory Road Complex, Priory Road, University of Bristol.
Attendees must be 18 or over
Cost: £37 per course, or £15 for those who qualify for assistance – please contact Valentine Jackson on english-lifelong@bristol.ac.uk or 0117 928 8924 for more details.