View all news
Bristol's University Enterprise Zone gets £1.5m boost for biotech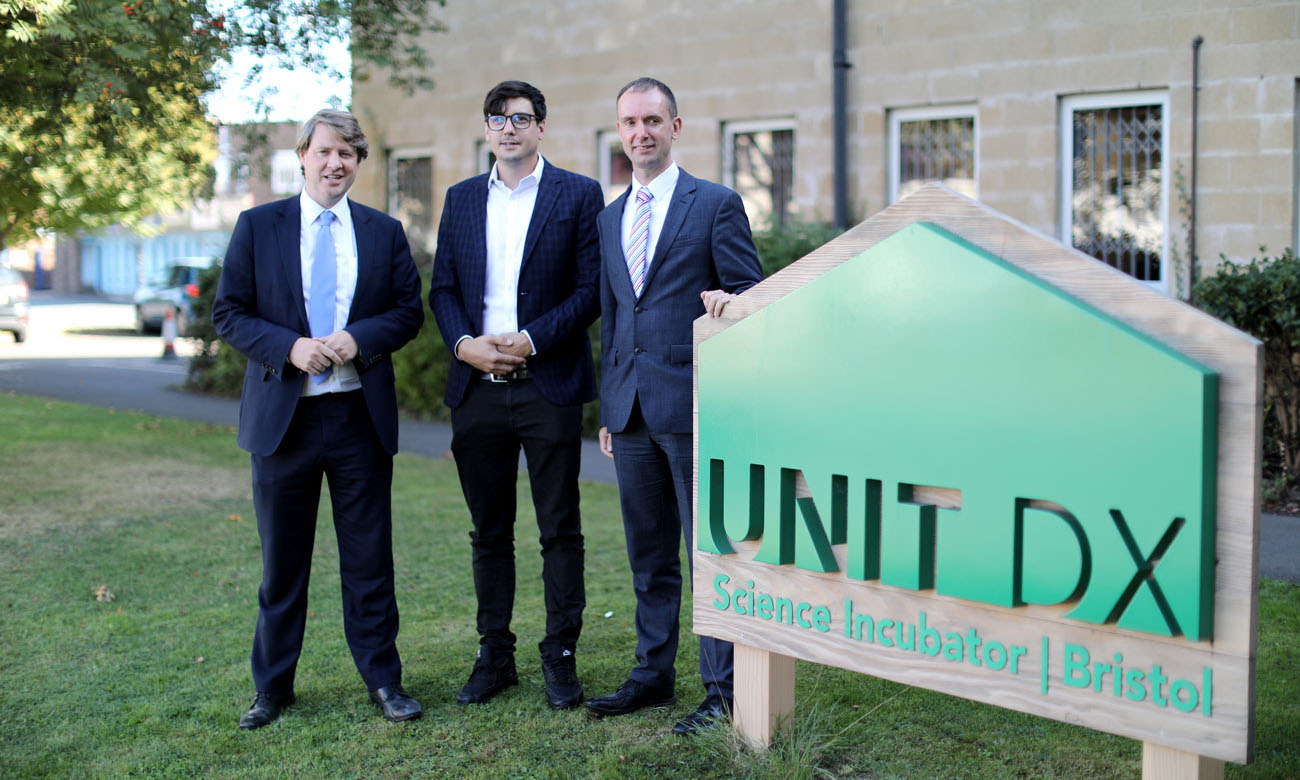 Press release issued: 20 September 2019
Research England has awarded £1.5m to the University of Bristol towards developing a new state-of-the-art life sciences incubator with Unit DX, as part of its University Enterprise Zone [UEZ] programme.
The funding is part of nearly £100m government investment that will allow both UK researchers and small businesses to seize the vast opportunities in science and innovation and industries of the future. Bristol is one of 20 universities to have been awarded a share of £20 million by Research England – part of UK Research and Innovation (UKRI) to develop a new University Enterprise Zone that will provide vital specialist support to small businesses in pioneering industries – like Artificial Intelligence (AI), clean growth, smart energy and agri-food.
Around £78 million is being invested in 78 scientists and researchers including Dr Victoria Bates from Bristol's Department of History through the government's Future Leaders Fellowships scheme. The funding will enable the most promising researchers and innovators to become leaders in their fields, working on an array of diverse subjects to help maintain the UK's position as a global science and research superpower.
Science Minister Chris Skidmore, who visited Unit DX earlier today, said: "Small businesses are the lifeblood of our economy, and Bristol has a thriving ecosystem of local businesses and entrepreneurs whose creativity and determination help underpin the UK's position as a leading innovator.
"Alongside this, many of Bristol's research community are right on the precipice of turning ground-breaking ideas into real products and services which could change the lives not just of people in the local community, but people around the world.
"Today's funding will not only help local scientists take their ideas from lab to market – but will also support an enterprise hub at University of Bristol. Providing space for local businesses to forge crucial partnerships, the UEZs will create jobs, drive local growth and provide SMEs with a vital steppingstone to succeed."
Bristol's collaboration will build on the success of Unit DX's first deep tech facility in Temple Quarter, which is now fully occupied, and affirm Bristol's position as a centre of scientific innovation.
The new facility will provide start-ups and scale-ups with much-needed laboratory space, as well as specialist business and technical support, whilst retaining close links with the academic departments of their founding teams.
Dr Jon Hunt, Director of Research & Enterprise Development at the University of Bristol, said: "We all know the 21st Century will be the century of biotech. We are partnering with Unit DX to develop a second specialist incubator and support the growth of life sciences start-ups and spin-outs. The achievements of our existing relationship have been recognised in HM Government's Life Sciences Sector Deal: two University of Bristol biotech spin-outs were acquired by multinationals last year, attracting global recognition.
"Bristol has a proud legacy of scientific research and a successful track record of innovation through its vibrant start-up, spin-out, and scale-up business ecosystem, resulting in significant economic value and job creation for the region. However, historically, scientific start-ups have been less visible and successful than their digital counterparts for two key reasons: many scientists lack the skills and experience to prosper in the world of business, and access to scientific facilities and premises has been limited."
Dr Harry Destecroix, co-founder and CEO of Unit DX, said: "We have already achieved great things with Unit DX. In just two years our community has raised over 28 million in funding, created over 120 jobs and is now at 100 per cent occupancy, supporting 32 deep tech companies. This new project will triple our capacity, giving companies the space to attract more investment, create more R&D jobs, and bring their technologies to market, which will deliver an enormous impact to society."
Unit DX's second site works alongside the University's world-leading SETsquared incubator for high-tech start-ups. The site is adjacent to the Enterprise Zone / Temple Quarter Enterprise Campus.
Further information
University Enterprize Zone
The University Enterprise Zone programme recognises the role universities play in supporting local and regional economies - disseminating knowledge, sharing innovation with industry, supporting entrepreneurs and providing communities with the skilled workforces they need. University enterprise zones aim to provide a focal point where universities and businesses work together in a business-friendly environment.
Unit DX
Unit DX is central Bristol's deep tech incubator, home to the city's most innovative science and engineering companies. They empower scientists as entrepreneurs, providing facilities, investment, and mentoring. Their member companies are using emerging technologies such as biotechnology and synthetic biology, artificial intelligence, photonics and electronics, drones and robotics, advanced materials, and quantum computing to create new markets and deliver solutions to big societal problems.
Unit DX was established in 2017 by the founders of Ziylo, a start-up that was acquired in 2018 by Novo Nordisk to develop smart insulins. In the process of spinning out the company, they realised that there was nowhere in central Bristol for science start-ups to go. Their first facility is now full and home to 32 businesses, which have collectively raised over £28 million in the last two years.
Deep technology is the next big thing. It promises to tackle global issues: the climate emergency, world hunger, and the future of healthcare. Companies developing these technologies need more time and capital to bring their innovations to market, but their potential impact can't be matched. The West of England's world-class research base and talent pool are driving innovation in deep tech sectors.