View all news
Health pioneers celebrated at awards for life-changing chemistry innovations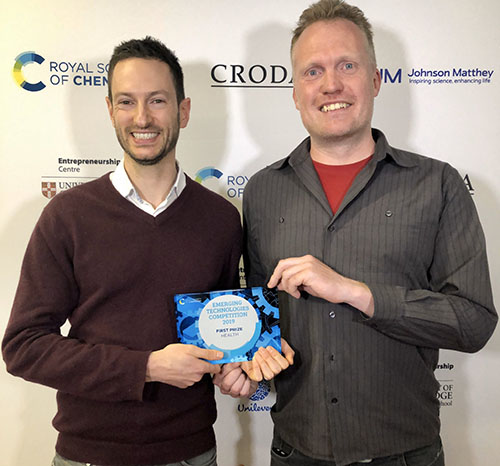 Press release issued: 31 October 2019
University of Bristol spin-out, Rosa Biotech, was named as one of the most exciting health chemistry innovators in Europe after winning a Royal Society of Chemistry (RSC) Emerging Technologies 2019 award for its biosensing platform that mimics the mammalian olfactory (smelling) system. Rosa was one of two innovations to win the award and a share of £80,000 prize.
The competition is part of the RSC's Chemistry Means Business event which brings together pioneers, entrepreneurs and industry leaders for an innovation showcase in the chemical science sector across the UK and Europe.
Following a rigorous application process in which applicants had to put forward their ideas to improve lives across a range of categories comprising, Health, Food and Drink, Enabling Technologies and Energy and the Environment, 37 innovators including Rosa Biotech were shortlisted as finalists and invited to pitch to a panel of judges.
At an awards ceremony in London, Rosa Biotech (UK) and Rubynanomed (Portugal) were announced as the winners of the health category at the RSC Emerging Technologies Competition 2019.
Andy Boyce, CEO from Rosa Biotech, said: "It's a really incredible validation to be recognised with this prestigious award from the Royal Society of Chemistry. It is especially amazing for us because we're such an early company."
1. Rosa Biotech, Bristol, UK.
Rosa Biotech has developed a sensing platform that mimics the mammalian olfactory (smelling) system. It computationally designs barrel-shaped proteins which produce distinctive colour changes in response to a huge variety of substances. By using barrel arrays, it creates characteristic fingerprints that are interpreted by machine learning to make commercial and clinical predictions.
2. RUBYnanomed, Braga, Portugal
RUBYnanomed has developed a precise cancer snapshot tool, the RUBYchip, a microfluidic device for isolating all types of circulating tumour cells (CTCs) from unprocessed whole blood. In this way, RUBYnanomed offers a non-invasive and real-time diagnosis of cancer progression to oncologists to enable personalised treatment.
Lorena Diéguez, from RUBYnanomed, said: "We are very happy and proud to receive this award and truly grateful for the recognition."
Aurora Antemir, Head of Industry at the Royal Society of Chemistry said: "Chemistry Means Business pairs the next generation of chemistry innovators with the blue-chip companies that can take their ideas forward.
"Both the winners and finalists this year have undoubtedly been amongst the most innovative we've seen yet. We're looking forward to seeing how these incredible new ideas and innovations will deliver really exciting real-world benefits."
Now in its seventh year, the competition brings cutting-edge science to the real world for the benefit of society. Previous winners have gone on to raise a combined total of over £32m in equity investment and grant funding, with one company subsequently being sold for £28m. Winners have also expanded overseas, entered commercial contracts, conducted clinical and industrial scale trials, and collectively doubled their staff.
Each winner will receive £/€10,000, support from competition partners (Unilever, Pfizer, Johnson Matthey, RSSL and Croda) and intensive business and pitch training at Cambridge Judge Business school.
Further information
About Rosa Biotech
Rosa Biotech's mission is to enable intractable challenges in early disease diagnosis and industrial biotechnology to be addressed accurately and at scale. Our patent-pending technology builds upon and extends the pioneering protein design work of Professor Dek Woolfson and his team at the Bristol BioDesign Institute at the University of Bristol. By combining this with advanced machine learning techniques, we offer a powerful platform capable of being trained to address numerous complex biosensing problems.
Rosa Biotech is backed by a team of experienced, high-profile business angels. These include founders of Ziylo, the biosensing company recently acquired by Novo Nordisk for up to $800 million, and of Cramer Systems, the enterprise software company acquired by Amdocs for $425 million.
The Company is based at the Unit DX biosciences hub in the heart of Bristol. Conveniently located near Bristol Temple Meads station, Unit DX is home to over 20 science-driven companies and provides a melting pot of academic researchers, startup and spinout companies, investors and support services.
For further information see the Rosa Biotech website at www.rosabio.tech or contact info@rosabio.tech.
About Bristol BioDesign Institute
Bristol BioDesign Institute (BBI) is the University of Bristol's Specialist Research Institute for synthetic biology. With wide-ranging applications from health to food security, BBI combines pioneering synthetic biology approaches with understanding biomolecular systems to deliver the rational design and engineering of biological systems for useful purposes.
This is delivered through multidisciplinary research that brings together postgraduate and postdoctoral researchers, academics, policy makers and industry, whilst also engaging the public with emerging solutions to global challenges.