View all news
University of Bristol spin-out raises £760,000 to commercialise biosensing technology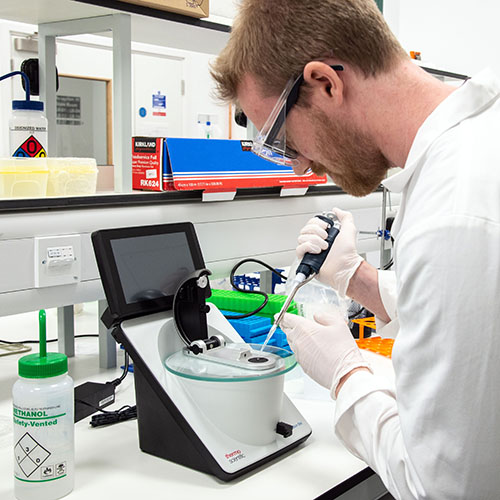 Press release issued: 31 October 2019
Rosa Biotech, a new University of Bristol spin-out which developed a sensing platform capable of detecting the faint chemical signature given off by chronic diseases has raised £760,000 to commercialise its ground-breaking innovation. The artificial Intelligence (AI)-driven biosensing technology, which mimics mammals' sense of smell, has significant potential to transform the medical diagnostics and pharmaceuticals industries.
From early disease diagnosis to enhancing industrial biotechnology, there is an ever-growing need to analyse complex biological mixtures. Most techniques rely on the expensive and time-consuming process of developing bespoke tests for specific molecules.
Inspired by the highly refined ability of dogs to smell malaria, Parkinson's and other life-changing diseases, the researchers behind the technology demonstrated its strong potential to a wide range of sensing and diagnostic challenges.
Professor Dek Woolfson – whose team at the Bristol BioDesign Institute developed the technology – explains: "Over the past 20 years, we have learnt how to design new proteins completely from scratch. Some mimic natural protein structures, but others are entirely new structures. We built a series of barrel-shaped proteins that resemble proteins of the mammalian olfactory system, but are much simpler, easier to make and easier to handle.
"It is these barrels that provide the basis for Rosa's technology. We make arrays of different barrels, load each barrel with a dye, and then expose the array to something that we want to analyse, for instance a bodily fluid that may show signs of disease. Molecules in the sample dislodge the dyes but to different extents across the array. This gives coloured patterns that are analysed using machine learning. By recording patterns for healthy and diseased samples, we hope to build sensors for early-stage diagnosis of disease."
Rosa Biotech has been established to refine, develop and commercialise this capability and is already working with several clinicians and pharmaceutical manufacturers.
Dr Andy Boyce, CEO of Rosa Biotech, said: "The scientific team has developed a sensing platform that is both sensitive enough to detect the faint chemical signature given off by chronic diseases but also versatile enough to be applied to a broad range of sensing challenges, such as the complex manufacturing process for high-value drugs."
This work was enough to attract the attention of the South West's growing biotech investment community. The team closed an investment round of £760,000 from an experienced group of local business angels representing one of the largest founding investments in any UoB spinout company.
Dr Harry Destecroix, founder of Ziylo, the glucose sensing company acquired by pharmaceutical giant Novo Nordisk August 2018, described why he invested: "Rosa is that rare combination of an early-stage company that is built on world-class research and has already started to get traction with end-users. The combination of novel chemistry and machine learning offers huge opportunities for growth."
Rosa's investment will be used to grow the team, build out Rosa's automated platform and demonstrate the utility of the technology to address challenges in new sectors.
Further information
About Rosa Biotech
Rosa Biotech's mission is to enable intractable challenges in early disease diagnosis and industrial biotechnology to be addressed accurately and at scale. Our patent-pending technology builds upon and extends the pioneering protein design work of Professor Dek Woolfson and his team at the Bristol BioDesign Institute at the University of Bristol. By combining this with advanced machine learning techniques, we offer a powerful platform capable of being trained to address numerous complex biosensing problems.
Rosa Biotech is backed by a team of experienced, high-profile business angels. These include founders of Ziylo, the biosensing company recently acquired by Novo Nordisk for up to $800 million, and of Cramer Systems, the enterprise software company acquired by Amdocs for $425 million.
The Company is based at the Unit DX biosciences hub in the heart of Bristol. Conveniently located near Bristol Temple Meads station, Unit DX is home to over 20 science-driven companies and provides a melting pot of academic researchers, startup and spinout companies, investors and support services.
For further information see the Rosa Biotech website at www.rosabio.tech or contact info@rosabio.tech.
About Bristol BioDesign Institute
Bristol BioDesign Institute (BBI) is the University of Bristol's Specialist Research Institute for synthetic biology. With wide-ranging applications from health to food security, BBI combines pioneering synthetic biology approaches with understanding biomolecular systems to deliver the rational design and engineering of biological systems for useful purposes.
This is delivered through multidisciplinary research that brings together postgraduate and postdoctoral researchers, academics, policy makers and industry, whilst also engaging the public with emerging solutions to global challenges.