View all news
Bristol welcomes new postgraduate research students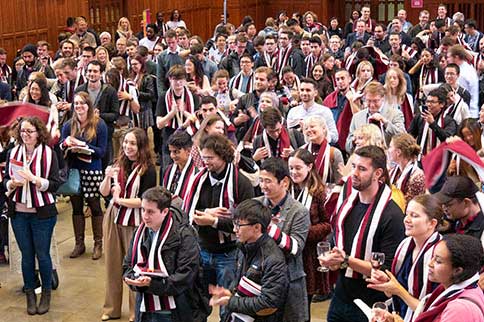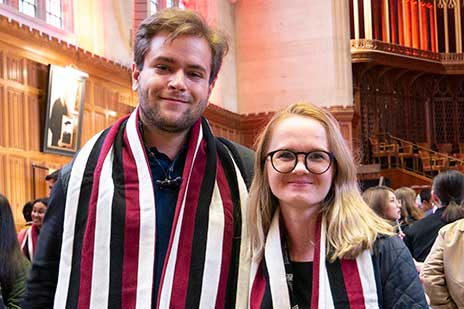 9 October 2019
More than 300 new postgraduate research students gathered in the Wills Memorial Building on 7 October for the latest Researcher Inauguration event, an official welcome from the University of Bristol.
Research students from all six faculties attended the Bristol Doctoral College-hosted event, which was an opportunity to explore research connections across the disciplines, set up future collaborations and discover the opportunities on offer at Bristol.
For many, this was the first time they had met fellow research students at the University, so the event was a chance to form new friendships. Attendees also had an opportunity to learn about the programme of social events for postgraduate researchers held in the University's PGR Hub, and the wellbeing support services provided by the University.
In addition to networking, research students were invited to try a range of fun activities, including having their photos taken with fellow researchers in a custom booth and adding their hopes for the future to puzzle pieces.
There were short speeches from Professor Leah Tether, Graduate Dean in the Faculty of Arts, and Chris Brasnett, Bristol SU's Postgraduate Education Officer.
Nadia Blackshaw, a first-year PhD student in Philosophy, said: "It really feels like our PhD journey has begun now. It is nice to see such a varied range of people starting out too and makes me feel like I'm not on my own."
Santiago Ayuso Arcas, a first-year PhD student in Education, described the evening as "a chance to discover something about the postgraduate research community here at Bristol and share experiences, as well as hearing from staff who have been through a PhD themselves. It has made me excited to get started."
Professor Hugh Brady, Vice-Chancellor and President, formally welcomed students to Bristol and celebrated their place in our international community of scholars.
Reflecting on a successful event, the Vice-Chancellor said: "Postgraduate research students make a huge contribution to our University and our outstanding research profile. I was delighted to help welcome hundreds of new postgraduate research students into our vibrant, interdisciplinary research community at this special welcome event. I found it inspiring to get a sense of the breadth of research that our new research students will be undertaking over the next few years."