View all news
Engineering researcher Rainer Groh wins Philip Leverhulme Prize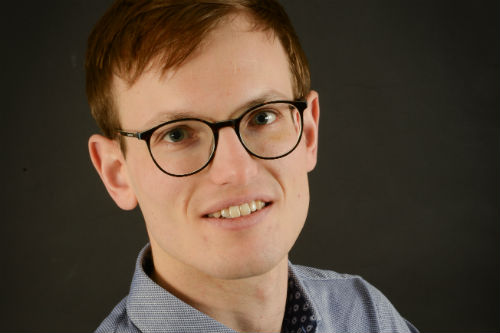 Press release issued: 29 October 2019
Rainer Groh, Senior Research Associate in the University of Bristol's Department of Aerospace Engineering, has been awarded £100,000 by the Leverhulme Trust in recognition of his outstanding work and exceptional future prospects.
Rainer, who is also a Research Fellow of the Royal Academy of Engineering and part of the Bristol Composites Institute, is one of 30 UK researchers to be awarded the prestigious Leverhulme Prize.
His current research lies in the optimisation and lightweight design of aerospace structures. With the introduction of stringent European regulations on reducing carbon dioxide emissions and fuel consumption on the horizon, there is a strong need to develop lighter aircraft.
Contributing to this effort, Rainer is investigating the use of tow-steered composites, a technological field pioneered at the University of Bristol that allows carbon fibres to be steered in curvilinear rather than straight trajectories, thereby creating stronger structures with fewer discontinuities.
As an early-career academic, the award will support Rainer's uppcoming project in collaboration with NASA Langley Research Center, enabling him to grow his research group and employ a post-doctoral researcher specialising in structural optimisation.
"I am absolutely delighted to be one of the five engineers in the UK to have received this prestigious prize and I am honoured that my research achievements have been recognised by the Leverhulme Trust," said Rainer, who runs his own Aerospace Engineering Blog and an Aerospace Engineering Podcast where he interviews engineers and researchers developing new aerospace technology.
Professor Ian Bond FRAeS, Dean of the Faculty of Engineering, commented: "This is a fantastic achievement by one of our academic rising stars. Rainer has proven himself very adept at presenting a compelling research agenda, and recognition by the award of this Philip Leverhulme Prize is a ringing endorsement of his capabilities.
"This prize award is yet another great example of the huge amount of talent that we have across the Faculty of Engineering at Bristol."
Further information
About Bristol Composites Institute (ACCIS)
Bristol Composites Institute (ACCIS) is one of seven Specialist Research Institutes (SRIs) designed to reflect Bristol's strength and depth in key specialisms, and the host institute for the MSc in Advanced Composites. We lead the way in composites education and research, combining cutting edge fundamental science with strong industrial links for technology transfer.
Advanced composite materials are critical to reducing weight, energy consumption and CO2 generation for transport applications. They also enable novel and multi-functional structural designs. They are formed by combining two or more materials to create an advanced material with significantly improved properties. Composites also enable novel and multi-functional structural designs.
As a global leader in composites research and application, the University of Bristol has the strength to make composites in the UK an exemplar of how research and industrial engagement should be done.