View all news
Interim appointments announced for Pro Vice-Chancellor (Research and Enterprise)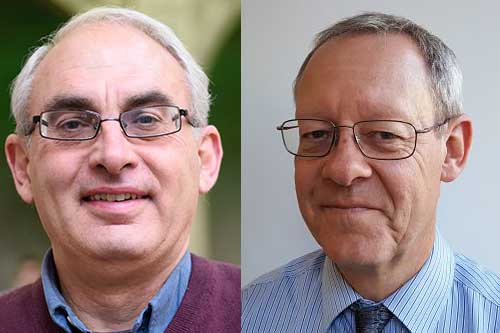 10 October 2019
The University is delighted to announce the appointment of Professor Paddy Ireland and Professor Tim Peters as Interim Pro Vice-Chancellor for Research and Enterprise on a job-share basis.
Professor Ireland and Professor Peters will each undertake the full breadth of the current portfolio (including leading the REF2021 preparations, supporting large, multidisciplinary, cross-faculty research programmes, overseeing University-level research institutes, and engaging with key research funders and external partners) splitting the responsibility for the University's six faculties. Professor Ireland will have responsibility for the Faculties of Arts, Engineering and Social Sciences and Law; Professor Peters will have responsibility for the Faculties of Health Sciences, Life Sciences and Science.
They will take up the interim job-share role on 21 October, in advance of Professor Nishan Canagarajah's departure, and remain in post until the permanent appointment process is concluded.
Paddy Ireland is Professor of Law in the University of Bristol Law School. He joined the University in August 2013 having previously taught at the Universities of Kent and Hull and at Osgoode Hall Law School, part of York University, Toronto. A graduate of the University of Kent, Professor Ireland is a leading, heterodox scholar of the history of company law, corporate theory and corporate governance, and has published widely in each of these areas. He twice acted as Head of Kent Law School (1993-96, 1999-2002) and as its Director of Research (2003-12). He served as Director of Research in the Faculty of Social Sciences at Kent from 2010-13, and as Deputy Dean from 2011-13. He was Director of Research in the Faculty of Social Sciences and Law since his arrival at Bristol in 2013 to 2015 and was Dean of the Faculty of Social Sciences and Law 2015-19.
Tim Peters is Professor of Primary Care Health Services Research at Bristol Medical School and Research Director for the Faculty of Health Sciences. He was Research Director for the Faculty of Medicine and Dentistry (2006-09), Head of the Department of Community Based Medicine (2008-10) and Head of the School of Clinical Sciences (2010-17). Professor Peters is a statistician and trialist with research interests focusing on community-based evaluations of health interventions, particularly those relating to mental health and chronic disease. He has extensive experience of research strategy, fellowships and grants committees, including for the MRC, NIHR, the Academy of Medical Sciences, Health and Care Research Wales, the Health Research Board in Ireland, Marie Curie, Macmillan Cancer Support and the Wellcome Trust. He was a member of sub-panels in RAE2008 and REF2014 and is a member of sub-panel 2 for REF2021. He holds Honorary Fellowships of the Royal Colleges of General Practitioners and of Speech and Language Therapists, is an NIHR Senior Investigator (Emeritus), a Fellow of the Faculty of Public Health and a Fellow of the Academy of Medical Sciences.