View all news
Maths puzzle inspires Bristol bridges book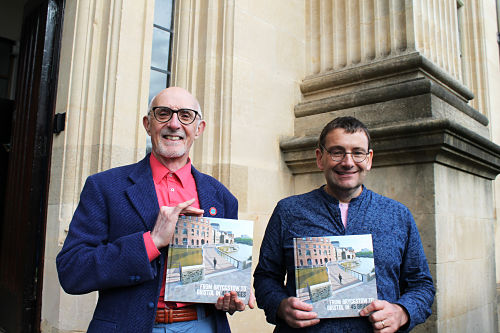 Press release issued: 24 October 2019
The University of Bristol is delighted to have supported the publication of a book that represents a unique fusion of Bristol's history, a mathematical puzzle and a walking challenge around the city.
Written by Bristol author Jeff Lucas and co-authored by Dr Thilo Gross, 'From Brycgstow to Bristol in 45 Bridges' sets out the history of every bridge in the city and was celebrated at a launch event held at the Clifton Suspension Bridge Visitor Centre.
Jeff Lucas was inspired by an article by Dr Thilo Gross, who, while teaching mathematics at Bristol University in 2013, worked out a mathematical puzzle on how to take a walk around the city crossing every bridge just once.
Known as the 'Königsberg Bridge Problem', the puzzle dates back 300 years to a German city where it was first discussed.
Professor of Applied Non-Linear Mathematics Alan Champneys said: "This mathematical problem is not just an interesting piece of history. Without it the Google algorithm that ranks websites could not function and that is something that we all use every day.
"So much of what we do today is about connectivity and at the heart of that is mathematics. This book has been inspired by engineering maths and network science."
Jeff Lucas took photographs of the 45 bridges that currently exist in Bristol. Two had been built since 2013, so Dr Thilo Gross, who now lives in the USA, re-worked the puzzle to take these into account, with the result published in the book.
Mr Lucas said: "In every day life we rarely pay attention to bridges, but they are vital to human society and its history. People can use the book to walk or cycle the 45-kilometre route around Bristol and discover so much about the city's history.
"I'm grateful to Bristol University for the funding that enabled the book to be published and it is exciting to know that so many people are enthusiastically looking at the city's bridges and walking around our fantastic city as a result."
Further information
From Brycgstow to Bristol in 45 Bridges (£18) is published by Bristol Books and is available from the Clifton Suspension Bridge visitor centre and other shops in Bristol, or online at www.bristolbooks.org.