View all news
Bristol welcomes third cohort of Vice-Chancellor's Fellows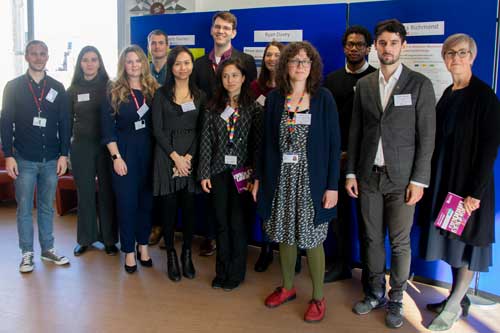 19 November 2019
The University's third cohort of recipients of the Vice-Chancellor's Fellowships gathered for a welcome lunch yesterday (18 November) with Deputy Vice-Chancellor and Provost Professor Judith Squires and other members of the Executive Team.
The Vice-Chancellor's Fellowships scheme offers an opportunity for early-career researchers to advance their research careers and develop their potential to become academic leaders.
Fellows benefit from tailored, one-to-one mentoring and training. They also have access to start-up funds and support to develop across the full spectrum of an academic role, including teaching, public engagement, impact development and innovation.
The 13 members of the 2019-20 Fellowship intake are aligned to the University's Strategic Research Institutes and will be working on a broad range of research projects.
The 2019-20 Vice-Chancellor's Fellows are: Andrew Fraass, Becky Mars, Ben Kasstan, Carolina Borges, Joseph Webb, Lindsey Porter, Myles-Jay Linton, Robert Chapman, Shamik Dasgupta, Sotiria Fotopoulou, Tomasz Maciazek, Victoria Mascetti and Vivian Kong.
Professor Squires said: "It is with great pride that I welcome our new cohort of Vice-Chancellor's Fellows. These 13 talented researchers are each working on complex societal challenges of great significance and all have the potential to become future leaders in their field. Attracting the very best early-career researchers to the University of Bristol is a key to our core values: by nurturing their potential and offering them a supportive research environment with access to cutting-edge facilities and flagship research institutes, we aim to support their career development and also to further enhance our reputation for world-leading research at Bristol."