View all news
UK scientists bring innovative vaccine technology to Vietnam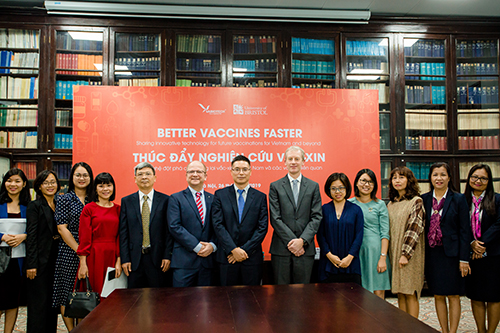 Press release issued: 27 November 2019
World-leading vaccine scientists from the University of Bristol are working with one of Vietnam's major vaccine manufacturers, Vabiotech, to share cutting-edge knowledge that could help prevent future global outbreaks of avian flu and rabies.
Professor Imre Berger, Director of the Max Planck-Bristol Centre for Minimal Biology at the University of Bristol visited Vabiotech in Hanoi, Vietnam this week as part of an ongoing initiative to share state-of-the-art vaccine technology with developing countries.
Vabiotech and the University are partners in the Future Vaccine Manufacturing Research Hub (FVMR Hub), a collaborative initiative led by Imperial College London and supported by the EPSRC (Engineering and Physical Sciences Research Council).
"While rapidly developing countries, such as Vietnam, have an impressive capacity to manufacture vaccines tailored to local needs, this has historically been hampered by a lack of access to the cutting-edge innovations in vaccine technology we specialise in here in the UK" said Professor Berger. "Our aim in working with Vabiotech is to share knowledge that will aid and expedite the development of next-generation vaccines specifically for deployment in Vietnam."
Scientists from Vabiotech are being trained by Professor Berger and his team in MultiBac, a powerful recombinant production technology the Berger team pioneered. MultiBac is uniquely suited for producing novel vaccines in large quantities in insect cells that can be easily cultured at low cost. The objective is to master the MultiBac technique and implement the technology in large-scale biofermenters in Vietnam.
Together with Vabiotech and supported by the FVMR Hub, Professor Berger is targeting the use of MultiBac towards the production of vaccines for pandemic (avian) influenza, as well as rabies and other pathogens.
"Vabiotech is particularly interested in using MultiBac to produce vaccines to combat avian flu. We saw a few years ago how quickly avian flu, which began in Vietnam, developed into a global threat for humans." explained Professor Berger "While the threat of avian flu in Vietnam still looms, deployment of a suitable vaccine could therefore help prevent future pandemics."
Dr Do Dat Tuan, President and Director General of Vabiotech, said: "As Vietnam's leading manufacturer of vaccines, our aim is to prevent, eliminate and gradually eradicate dangerous infectious diseases. We are therefore delighted to welcome Professor Berger to Vabiotech, and we look forward to utilising their ground-breaking technology in the manufacture of future vaccines for Vietnam."
Professor Berger was joined on the visit by Dr Erik Lithander, Pro Vice-Chancellor (Global Engagement) along with other senior University colleagues.
It is part of a week of meetings and events in Vietnam with universities and organisations across three cities (Hanoi, Danang and Ho Chi Minh city) to forge new connections as well as building on existing research partnerships.
Dr Lithander said: "As a University we are committed to building strategic connections and relationships around the world. We see real potential here in Vietnam to develop mutually beneficial partnerships with a variety of esteemed universities and organisations."
Further information
About Professor Imre Berger
Professor Imre Berger is Director of the Max Planck-Bristol Centre for Minimal Biology, a partnership between the University of Bristol and the Max Planck Society for the Advancement of Science (MPG) in Germany. It aims to advance the future of health and medicine by understanding the fundamental nature of life.
Professor Berger's team recently published a report in Science Advances on a new vaccine for Chikungunya virus. One important feature of this vaccine is its thermostable properties, which support implementation in a distribution pipeline not reliant on keeping vaccines refrigerated – commonly known as a "cold chain". Resource-constrained countries are in dire need of vaccines not reliant on "cold chain" distribution protocols, which is a major challenge for the manufacturing field.
About VABIOTECH
VABIOTECH is one of the leading companies in Vietnam in manufacturing, trading, researching and developing a wide range of vaccines and biologicals for human use, analyzing samples of new developed vaccines and biological products, diagnostic kits, therapeutic products, pharmaceuticals; cosmetics, nutrition foods, providing healthcare service.
Being the biggest vaccine manufacturer and supplier for the National Expanded Program on Immunization in Vietnam with GMP qualified facilities, VABIOTECH is proud of its contribution to prevent, eliminate and gradually eradicate dangerous infectious diseases in order to improve children's health in Viet Nam.
Currently, VABIOTECH produces four vaccines: Hepatitis B, Hepatitis A, Japanese Encephalitis, Oral cholera and a series of diagnosis kits for detection of HBsAg, anti-HBs, anti-HCV and anti-HIV. Besides, VABIOTECH also imports and provides some other vaccines and biological products to meet the market's demand such as: Mumps, Rubella, Meningococcal and Varicella.
VABIOTECH is highly committed to provide its best products at favourable prices in order to protect Vietnamese people's health and well-being.
About the Future Vaccine Manufacturing Research Hub (FVMR Hub)
The FVMR Hub is a £10 million award from the Department of Health and Social Care and administered by the Engineering and Physical Sciences Research Council, which was launched December 2017. A major goal of the FVMR Hub is to research and develop new cost-effective vaccines that impact populations in lower- or middle-income countries, aligning with the UK's commitment towards providing Official Development Assistance (ODA).
Robin Shattock from Imperial College, who leads the Hub, said: "This collaboration between the University of Bristol and Vabiotech is an exemplar joint research project targeting our Hub's goal of transferring new vaccine technologies directly to manufacturers in developing countries."
About the Bristol BioDesign Institute
The Bristol BioDesign Institute (BBI) co-ordinates synthetic biology research, training and innovation across the University of Bristol. With wide-ranging applications from health to food security, BBI exploits pioneering approaches to deliver the rational design and engineering of biological systems for useful purposes, through multidisciplinary research which brings together postgraduate and postdoctoral researchers, academics, policy makers and industry, whilst also engaging the public with emerging solutions to global challenges.