View all news
University tower tours raises £38,000 for Bristol Children's Hospital Charity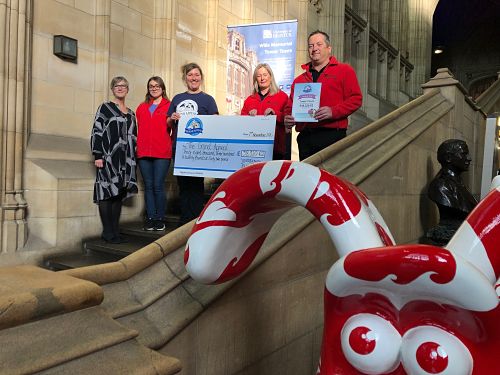 Press release issued: 8 November 2019
Tours of one of Bristol's tallest and most iconic buildings have raised a fantastic £38,000 towards caring for sick babies and children in the city.
Thousands of people have now climbed the steps to the top of the University of Bristol's Wills Memorial Building as part of the Tower Tours, held to raise money for Wallace and Gromit's Grand Appeal, the Bristol Children's Hospital Charity.
Ad-hoc tours of the imposing Neo Gothic landmark began 19 years ago, with staff and students keen to see what goes on behind the grand facade. It grew to be so popular that tour times were formalised and opened up to the public in return for a charitable donation.
It's now ranked 4th most popular activity on Tripadvisor for attractions in Bristol, with an overall 5* rating.
The tours are coordinated and ran by guides Gary Nott, Senior Porter at the Wills Memorial Building, Kim O'Donnell, Supervisor of the Wills Memorial Building cleaning services, and Antonia Yocheva, a second year Palaeontology and Evolution student.
Gary Nott said: "Bristol's Wills Memorial Building is one of the city's most famous and beautiful buildings. Running these tours is not only a great way for us to share with people some of its fascinating history but also a way for us to help contribute to this great charity. The tours have grown in popularity and we have visitors from all over the world, and I've even had students here come up to me saying they applied to the University of Bristol after taking one of our tours.
"It's fantastic to have reached £38,000 thanks to our visitors' kind donations, and we hope to reach £40,000 soon."
Professor Judith Squires, Deputy Vice-Chancellor and Provost, said: "I am really proud of Gary Nott and the team for welcoming members of the public into the Wills Memorial Building to raise money for the Bristol Children's Hospital Charity The Grand Appeal. £38,000 is a fantastic achievement and will help towards creating more vital accommodation for families with critically ill children. Another great example of the University contributing to the City of Bristol and beyond."
Thousands of people have now enjoyed the Tower Tours, including local school children, foreign visitors, dignitaries visiting the city, University staff and students and prospective students.
Kate Jones, Senior Community Fundraiser at the Grand Appeal, said: "The Tower Tours' fundraising has reached new heights, and we couldn't be more thankful for the University's incredible support. Not only does the University make a difference to our patients through the pioneering medical research it funds, it's now helping us give families of seriously ill children from across the entire South West a place to stay, when they need it most."
Officially opened in 1925, the Wills Memorial Building houses the University's School of Law and the School of Earth Sciences, in addition to hosting graduation ceremonies twice a year and a whole host of public events.
The tours allow the public to see behind the grand facade and experience the splendour of the Great Hall, Council Chamber and ornate libraries.
There's also a unique opportunity to climb to the top of the tower and see the famous Great George bell – the seventh largest in England, weighing in at 9.5 tonnes - being rung.
The view from the top of Wills Tower, some 68 metres above Park Street, is unparalleled and tour guides give a unique insight into the history of the building, which was opened by King George V and Queen Mary in 1925 before being badly damaged during the Blitz in 1940.
Tour Times: Tours of the Wills Memorial Building take place weekly on Saturdays at 1 pm, with two tours held on the first Saturday of the month at 11 am and 1 pm. There's an additional tour at 12.30 pm every first Wednesday of the month.
Tour Prices: Tours cost £5 per person, with a £4 concessionary rate for students over 11-years-old, senior citizens and members of the University. Evening tours cost £6 and require a minimum of 10 people. Special arrangements can be made for dedicated tours for groups. Due to health and safety restrictions, children under eight are unfortunately not permitted on the tours.
Contact and booking: Booking in advance is advisable and can be arranged by emailing tower-tours@bristol.ac.uk or by calling Gary Nott on 0117 954 5219.
Further information
The Grand Appeal
Wallace & Gromit's Grand Appeal is the dedicated Bristol Children's Hospital charity. It runs a multi-million-pound portfolio of investment in partnership with the children's hospital and its Neonatal Intensive Care Unit at St Michael's Hospital, Bristol.
Bristol Children's Hospital is a national centre of excellence. It treats over 100,000 patients each year from across the entire South West and South Wales region and is home to some of the most exciting advancements in global paediatric healthcare. Babies, children and young adults with highly complex medical conditions – from rare genetic disorders, neurological conditions and congenital heart disease to traumatic injuries, cancer and kidney disease – are cared for around the clock by leaders in their respective fields. Just like Bristol, the hospital is a hub of innovation, where every day these experts pave the way for sick children through a vast network of research projects with international impact.
Independently, The Grand Appeal runs two family accommodation facilities – with a third currently in development – and employs over 20 specialist support staff who work on the ground in the hospital to ensure every aspect of hospital life is centred on the wellbeing of the young patients and their families. It also works with the hospital to create a child-friendly environment and a programme of arts, music and play therapies to ensure the very best patient experience.