View all news
Living Room 'sanctuary' space for students celebrates first birthday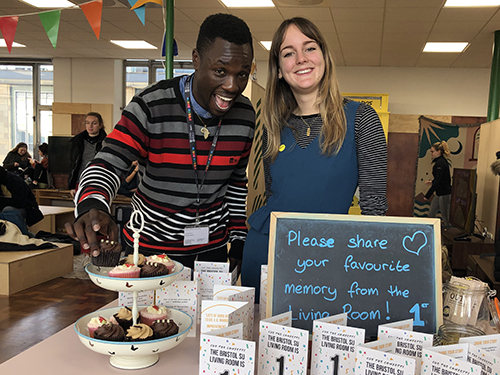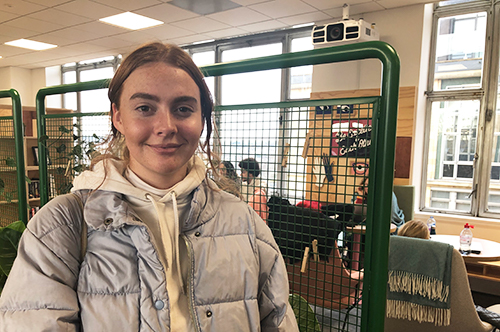 Press release issued: 2 December 2019
An innovative social space at the University of Bristol, designed to combat isolation and improve work-life balance for students, celebrated its first birthday today [2 December].
The Living Room in Senate House, run by Bristol SU, is a social space full of comfy sofas, bean bags, pot plants, rugs, games, books and TVs.
Students are encouraged to use it like their own living room – whether that's grabbing a cup of tea, snoozing, hanging out with friends, playing games, reading or even holding events there.
It's the first space of its kind at a university in the UK and is part of an international movement of Public Living Rooms dreamt up by a group of people known as Camerados, who believe the best way to get through tough times is by looking out for each other.
Since it opened a year ago, 63 per cent of the student body have used it, hosting over 250 events with over 5,000 attendees. Up to 700 students a day use the space.
Masters student Hannah Carson, a member of the Peace of Mind Society, helps to organise weekly 'Positivitea' sessions where anyone can come along for a hot drink, share any concerns they have, or just have a chat and meet new people.
She said: "Wellbeing and mental health is definitely being spoken about more on campus, which is brilliant. The introduction of the Living Room has had a huge impact on the student body – having a social space where students can come to relax and talk is crucial."
Not only have 13,000 cups of tea and 8,000 cups of coffee been consumed, but a survey has shown 91 per cent of people who took part in an activity agree or strongly agree that it helped them to meet new people and 88 per cent of people agree it improved their sense of positive wellbeing.
There are four more similar spaces in halls of residence in Hiatt Baker Hall, University Hall, Clifton Hill House and Manor Hall.
Julio Mkok, Union Affairs Officer at Bristol SU, said: "When I was studying last year, coming to the Living Room helped my wellbeing tremendously as it allowed me to have time to myself. It was a sanctuary that wasn't home or the classroom. It's the only space on campus which engages all students, regardless of their background.
"From a Bristol SU perspective, I'm incredibly proud that the Living Room is so popular and is making a difference to students' lives. Historically, we've always had complaints that the SU is so far away, but now we have a space at the heart of campus and students can see all the great work we're doing to improve their time here."