View all news
Free vaccines for dog and cat owners in Lawrence Weston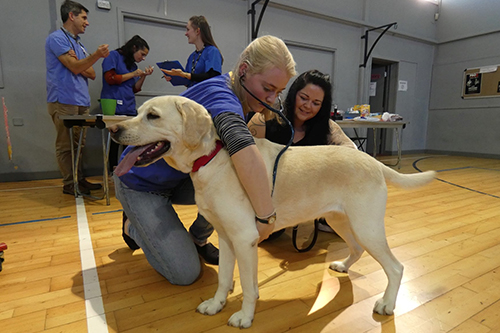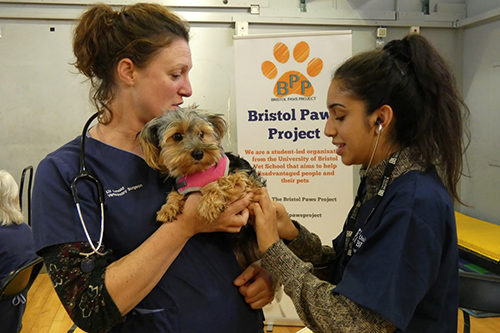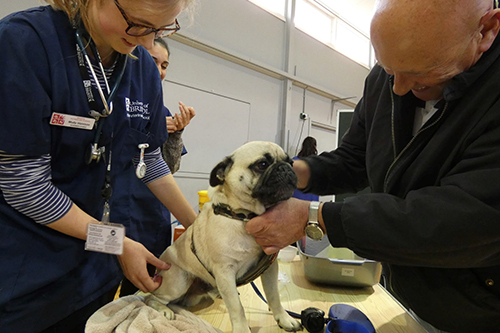 Press release issued: 5 November 2019
A free vaccination programme for dogs and cats has been organised by a student-led organisation from the Bristol Veterinary School. The Bristol Paws Project, which aims to help owners and pets that may not otherwise be able to afford veterinary treatments, organised a free vaccination drive last month, and the second set of vaccines will be administered tomorrow [Wednesday 6 November].
The vaccination drive will take place at Ambition Lawrence Weston, Long Cross, Lawrence, Bristol BS11 0RX, from 2 pm.
The Bristol Paws Project, who funded the vaccinations, will be working in partnership with local charity, Bristol Animal Rescue Centre, as well as some clinicians from Langford Vets who volunteer in their spare time.
Vet students and clinicians will carry out health checks on the animals and vaccinate them if they are healthy. There will be three canine stations and one feline station, which will be manned by some of the clinic team from Bristol A.R.C.
Holly Stringfellow, a Bristol Vet School student and President of the Bristol Paws Project, said: "We've found through our outreach clinics that lots of animals are not vaccinated, so we were really pleased over 70 animals – 44 dogs and 34 cats - were successfully vaccinated in the first clinic last month. We're hoping this event will raise awareness of the importance of vaccinations, as well as giving the vaccinations themselves."
Dr Alison Blaxter, Lecturer at the Bristol Vet School and a volunteer with Bristol Paws Project, added: "Bristol A.R.C. has been providing a veterinary nurse led clinic at Lawrence Weston for some time . This is the first time a vaccination programme for such a large group of animals has been run. It is a great venture and I'm delighted that our students are volunteering for such a worthwhile cause."
Residents of BS11 who receive housing benefit, council tax benefit, pension credit or universal credit with the housing element, will be eligible for their dog or cat to have the vaccines.
To book a free dog or cat vaccination, please call 0117 972 4567. Spaces are limited and appointments will be booked as first come first served.
Further information
About the Bristol Paws Project
The Bristol Paws Project, affiliated to the University of Bristol's Students' Union, was set up in 2016 by veterinary students from the University of Bristol with the aim of helping owners and pets that may not otherwise be able to afford veterinary treatments care for their pets.
We've historically enjoyed links with Bristol A.R.C., have attended regular clinics at St Mungo's, and have worked with projects like Helping Hounds and StreetVet.
For more information, please check out our Facebook page or email us at bristolpawsproject@gmail.com
About Bristol A.R.C.
Bristol A.R.C. (Animal Rescue Centre) has been caring for the city's pets and wildlife since 1887, helping, healing and homing over 14,000 vulnerable animals each year. We are the longest-standing and largest local animal charity, and although we are proud to be affiliated with the RSPCA, we receive no automatic funding from it. We rely entirely on local support within the community to fund our vital work.
For more information, please visit www.bristolarc.org.uk/ and our Facebook page or follow us on Twitter @Bristol_ARC