View all news
$800 million spin-out deal wins global award for University's Research Commercialisation Team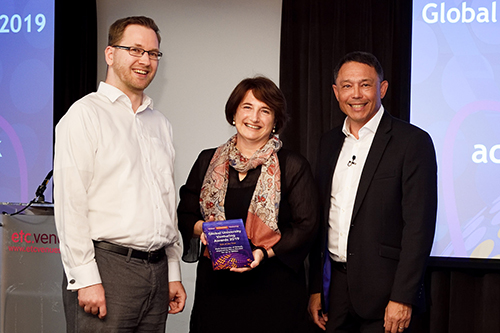 Press release issued: 28 May 2019
The sale of a University of Bristol spin-out company working on technology to develop next-generation insulin has won a global award.
Ziylo was bought by pharmaceutical firm Novo Nordisk, who hope to develop the world's first glucose-responsive insulin and transform the treatment of diabetes for millions of people around the world.
The deal won 'Exit of the Year' at the Global University Venturing Awards, beating stiff competition from Harvard University, UCL, John Hopkins University and the University of Twente.
Founded in 2014, Ziylo designed synthetic glucose-binding molecules that react and adapt to glucose levels in the blood and thereby prevent dangerously low blood sugar levels, known as hypoglycaemia.
The spin-out company was based on research by Anthony Davis, Professor of Supramolecular Chemistry, and PhD student Harry Destecroix, who went on to become the spinout's Chief Executive. The pair co-founded the business with Chief Financial Officer Tom Smart.
The deal also included the formation of a new spinout, Carbometrics, that has licensed back rights to help Novo Nordisk optimise glucose-binding molecules and to develop non-therapeutic applications, including continuous glucose monitoring products. It will remain at the Unit DX science incubator in Bristol and remains closely associated with the University.
Novo Nordisk hopes to start clinical trials within three years and will carry out its research and development activities in Oxford and in Denmark.
Jaci Barnett, Head of Research Commercialisation at the University of Bristol, said: "We are delighted to win this award as a testament to the work undertaken both inside the University by the academic founders and the research commercialisation team, and outside the University by the commercial drivers and other stakeholders.
"I particularly want to pay tribute to Ros Darby and Sue Sundstrom who started down the commercialisation pathway with this project. Exits such as these take a long time, a lot of money, and a lot of hard work from a diverse group of people, but this shows that it is possible and the more research results we can get out into society – commercially or otherwise - the more impact we can make on the world."
Keith MacDonald, former Chairman of Ziylo, said: "Our interactions with the University at the time of Ziylo's creation, during the life of the company and when it was sold to Novo Nordisk in 2018, always struck the right balance between the commercial imperatives driving the company's ambitions, the protection of the University's legitimate interests and the overriding importance of achieving scientific progress in the field of diabetes.
"The successful sale of Ziylo brought financial benefits to the University and the company's other shareholders, which included all employees as well as enhancing Bristol's reputation as a centre for scientific innovation.
"In the period since Ziylo's creation there has been an ever-increasing number of spin-outs and I am delighted that the contribution of the University's Research Commercialisation team has been duly recognised by this prestigious award."