View all news
Bristol science companies at Unit DX raise over £20 million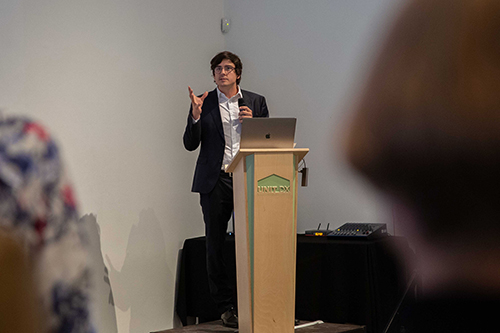 Press release issued: 20 May 2019
The University of Bristol and science incubator Unit DX last week celebrated the second anniversary of its partnership and announced over £20 million raised by Unit DX members.
The companies' technologies span biosciences, materials science, chemistry and quantum. The University has seen spin-out numbers reach record numbers in the last two years, partly attributed to the fruitful partnership with Unit DX.
Dr Harry Destecroix, CEO at Unit DX, said: "Bristol is unlocking much more of its outstanding research base now that the right investment, facilities and support are in place. We all have a responsibility to make sure that the resources and lab space are available to maintain this growth and provide even more jobs for Bristol's scientists."
Unit DX, based in St Philips, has recently reached 100 per cent occupancy and is now home to over 100 jobs across 37 science and engineering companies, many of which are either linked to, or spin-outs of the University.
STEM outreach programmes organised by Unit DX with volunteers from the University of Bristol have now welcomed over 1,000 schoolchildren. The team announced its economic impact figures during their second anniversary event at the Arnolfini last week.
Unit DX Headline Statistics
Over £20 million in investment and grant funding raised
100 per cent building occupancy
37 members
Over 100 jobs created
STEM Outreach Programmes have hosted over 1,000 children
£4.3 million combined annual wage bill
26 internships/placements completed
Nishan Canagarajah, Pro Vice-Chancellor Research and Enterprise at the University of Bristol, said: "The shift in approach to commercialisation and partnerships in Bristol over the past two years has been palpable. The University has seen a step change in the number of academics interested in the spin-out route, and we look forward to working with Unit DX to increase the facilities on offer for science companies in the city."
One of the first companies to move to Unit DX was Ziylo, a University of Bristol spin-out whose struggle to find lab space inspired the creation of Unit DX. In 2018, Ziylo was acquired by Novo Nordisk in a staged deal worth a potential $800 million. The sale has put Bristol on the map and attracted additional investment to the sector. Some of the former Ziylo shareholders have gone on to make seed stage investments in over 10 Bristol science companies at Unit DX. The University of Bristol Enterprise Fund and Bristol Private Equity Club have also made significant investments.
With Unit DX at capacity, plans have been set in motion to deliver more space for the growing scientific community in partnership with the University of Bristol. Space will be delivered in two phases – Unit DY and Unit DZ. More details will be announced later this year.
Further information
About Unit DX
Unit DX is a science incubator in central Bristol, home to 37 science and engineering companies. It was set up by the founders of another start-up, Ziylo, after recognising that there was no home for science companies in Bristol.
Unit DX brings together specialist facilities with science-focused business support, and has been instrumental in retaining Bristol's world-class scientific talent and research. The majority of companies at the incubator have a focus on bio-design and quantum technologies.
Unit DX is creating a new community by working with local schools to get them interested in science; by championing entrepreneurship at universities; and by directly supporting and housing early-stage science companies.