View all news
Creative Reactions: where science meets art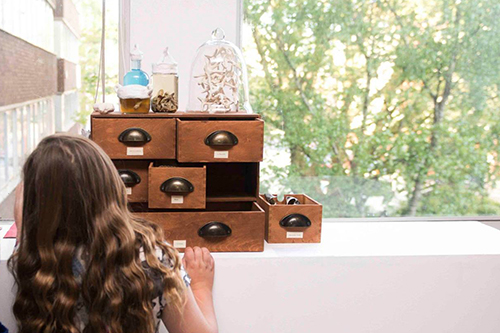 2 May 2019
Around 100 scientists and artists will be exploring the relationships between science and art using sculptures, wood carvings, canvas, and digital art, as part of this year's Creative Reactions Bristol.
Alongside the exhibition, which will run across two venues; North Art Gallery [Thursday 2 to Sunday 19 May], and The Island [Monday 20 May to Saturday 1 June] a series of free events will take place that complement the artworks and science on display.
Events will range from talks with artists and scientists, workshops for schools and adults such as an evening with Rising Ape. The exhibition is also part of the international Pint of Science Festival, which brings conversations with researchers about the latest cutting-edge research to the pub.
Matthew Lee a PhD student in the MRC Integrative Epidemiology Unit at the University of Bristol, and one of the organisers of Creative Reactions Bristol, said: "Creative Reactions Bristol is a great opportunity for people in Bristol to find out about some of the astonishing research that's happening on their doorstep.
"We look forward to welcoming everyone to the exhibition and showing them the artworks created for the exhibition and the research that has inspired these pieces of art."
The exhibition will move to The Island on Monday 20 May, beginning with a launch event from 6.30 to 10 pm.
On Wednesday 22 May at 7 pm, join the University's Tobacco and Alcohol Research Group (TARG) for a free evening of vapes, booze, behaviour and art. Researchers Jasmine Khouja and Carlos Sillero-Rejon will discuss the rise of e-cigarette use and what this means for people's health, and what's actually in a pint and whether alcohol labelling can learn from tobacco labelling.
On the same evening, Bristol academics, Drs Gavin Welsh and Carl May, will discuss the kidneys, what they are, what can go wrong and how to fix it. Tickets priced at £4, are still available for 'Curing chaotic kidneys' at The Boardroom, St Nicholas Street, Bristol, from 6.30 pm.
On Thursday 23 and Thursday 30 May, join Rising Ape and Creative Reactions for an artistic evening with a difference - think Scrapheap Challenge meets Dragon's Den - where people will have the opportunity to cut, tape and glue. The events are free but tickets must be booked in advance via Eventbrite.
Artists and scientists will come together on Friday 24 May from 6 pm to discuss their work and collaborations at a free event, booked via Eventbrite.
Professor Debbie Lawlor's research aims to maximise women's health during pregnancy, and the lifelong health of their children. Her artist has created a painting illustrating the link between pregnancy and the health of future generations.
Sculptor Mike Blow works mainly in stone. He has produced a piece inspired by psychologist Emily Crowe and her work on whether short-term memory plays a role in our response to sound.
Dr Rebecca Pearson studies the nature of parent-child interaction. Her artist used voice recognition technology, and real-life footage, to simulate the emotional rollercoaster of interacting with a baby.
Print-maker Amy Hutchins has worked with geneticist Charlie Hatcher to explore natural selection. Amy has drawn on conversations with Bristol's Children of the 90s participants to inject personal stories into her layered, printed artwork.
Chloe Russell has a background in the natural world and the fashion industry, and Dr Kaitlin Wade uses genetics to study links between diet, gut bacteria and diseases such as colorectal cancer and type-2 diabetes. Chloe has worked with biological samples to design a visual encyclopaedia of gut bacteria.
Creative Reactions Bristol is supported by the Medical Research Council the MRC Integrative Epidemiology Unit, The Alumni Foundation University of Bristol, The Biochemical Society, I'm a Scientist and Pint of Science.
Creative Reactions Bristol will run at the North Art Gallery, 135 North Street, Southville, Bristol, BS3 1EY, on Thursday 2 to Sunday 19 May from Monday-Saturday 9am-5pm and Sunday 10am-4pm and The Island, Bridewell Street Entrance, 1st Floor, Bristol BS1 2LE,
on Monday 20 May to Saturday 1 June from Monday-Saturday 9am-5pm, Sunday 10am-4pm.
Further information
The Medical Research Council is at the forefront of scientific discovery to improve human health. Founded in 1913 to tackle tuberculosis, the MRC now invests taxpayers' money in some of the best medical research in the world across every area of health. Thirty-one MRC-funded researchers have won Nobel prizes in a wide range of disciplines, and MRC scientists have been behind such diverse discoveries as vitamins, the structure of DNA and the link between smoking and cancer, as well as achievements such as pioneering the use of randomised controlled trials, the invention of MRI scanning, and the development of a group of antibodies used in the making of some of the most successful drugs ever developed. Today, MRC-funded scientists tackle some of the greatest health problems facing humanity in the 21st century, from the rising tide of chronic diseases associated with ageing to the threats posed by rapidly mutating micro-organisms.
About the MRC Integrative Epidemiology Unit
The Medical Research Council Integrative Epidemiology Unit at the University of Bristol (IEU) is one of the MRC's flagship University Units. The IEU brings together an innovative collection of research programmes and cross-cutting themes, underpinned by core research activities that will collectively fuel a step-change in causal analysis and their application. The aim of the MRC IEU is to apply the novel causal methods developed in the IEU to key research questions related to causes of bone, cardiometabolic, reproductive, mental and other aspects of ill-health; and to ensure that the results from these studies are appropriately translated into clinical/public health practice and industrial partnerships. A major focus of IEU activities is the integration of omic measures (genomic, epigenomic, transcriptomic and metabolomic) into epidemiological investigations.