View all news
Bristol Eating Better Awards 'brings positive change'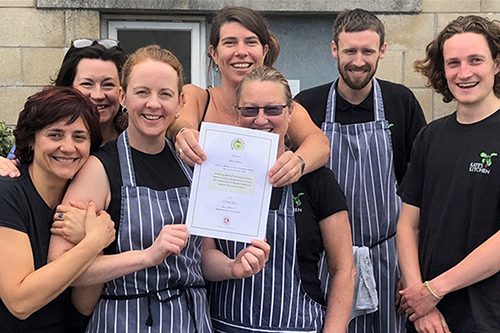 Press release issued: 10 May 2019
A new report by the University of Bristol evaluating Bristol City Council's Bristol Eating Better Awards, concludes there is significant benefit to both consumers and food businesses in participating in an officially recognised scheme.
Bristol has also recently launched a 'Going for Gold' campaign - a city-wide effort designed to get individuals and organisations to take action together, that will make significant and lasting improvements to the way we grow, buy and eat food in Bristol.
Deputy Mayor, Cllr Asher Craig said: "Bristol is understandably proud of its international reputation for having a vibrant and independent food culture.
"With the innovative Bristol Eating Better Awards, a robust Good Food and Catering Procurement Policy and our aim of becoming a Gold Sustainable Food City, I am confident that Bristol will rise to the Going for Gold challenge and change food in Bristol for good."
"Catering award schemes, such as BEBA, are contributing towards such positive change, particularly if businesses that hold an award are widely promoted to the public.
"The challenge remains around how these awards could appeal more to businesses based in high-risk areas with regards to health, as these might need to make more changes to their food provision to achieve an award. A collaborative approach, involving the whole supply chain system, would be needed to achieve that."
Bristol City Council is leading the way via its own Good Food and Catering Procurement Policy 2018, fulfilling a commitment to improve the food it offers and create a more sustainable food environment for everyone.
Piloted with just 32 organisations, there are now nearly 140 businesses across Bristol who have a BEBA, including food outlets at Bristol Royal Infirmary and South Mead Hospital, who both have gold awards.
Bristol Museum and Gallery, park concessions, market traders, street traders, city events and schools across the city have applied for and achieved BEBAs.
Harry Mcdowell who runs Wilde Kitchen, a healthy eco-friendly lunch delivery service said: "We are so proud to be awarded gold by the Bristol Eating Better Awards and so happy to be part of an amazing campaign for healthy, positive change in Bristol."
Lyndsey Gethin, joint-owner and chef at Cafe Des Amis in Easton said: "Completing this award has been a brilliant opportunity to champion all the positive aspects we have implemented within our cafe in respect to healthy options.
"It has also been a great tool for staff development and engaging the local community in conversations about making healthy choices."
BEBAs are also about sustainability and encouraging businesses to recycle and minimise their packaging - especially single-use plastics. Many local businesses are also supporting the Refill Bristol initiative that allows people refill their own water bottles for free.
Bristol is aiming to achieve the Sustainable Food City's Gold award by the end of 2020, a national initiative which supports and recognises cities that are making positive changes to their food systems.
The city currently holds a Sustainable Food City Silver award - the Gold level award has not yet been granted to any other city in the UK.