View all news
Bristol engineer to take his research to Parliament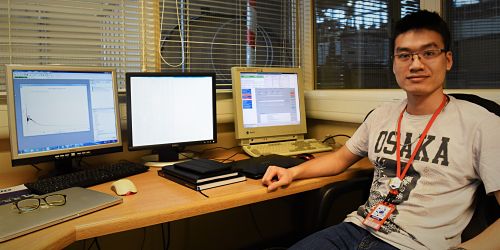 Press release issued: 7 March 2019
Huan Doan, PhD student from the University of Bristol, will present his engineering research to Parliament on Wednesday 13 March for the annual STEM for BRITAIN awards.
Engineer Huan will present his research to a range of politicians and expert judges in the Houses of Parliament.
Huan's poster will illustrate his work on tailorable porous hybrid materials and will be judged against other scientists in this national competition. Talking about this achievement he said: "It is such an exciting opportunity for me to present my PhD project to MPs and other researchers at the prestigious STEM for BRITAIN in Westminster.
"My work on tuning tiny pores in nanomaterials for improving their catalytic performance represents the culmination of my PhD and will be of widespread interest."
Stephen Metcalfe MP, Chairman of the Parliamentary and Scientific Committee said: "This annual competition is an important date in the parliamentary calendar because it gives MPs an opportunity to speak to a wide range of the country's best young researchers.
"These early career engineers, mathematicians and scientists are the architects of our future and STEM for BRITAIN is politicians' best opportunity to meet them and understand their work."
Judged by leading academics, the gold medallist will receive £2,000, while silver and bronze winners will receive £1,250 and £750 respectively.