View all news
Experience immersive VR documentaries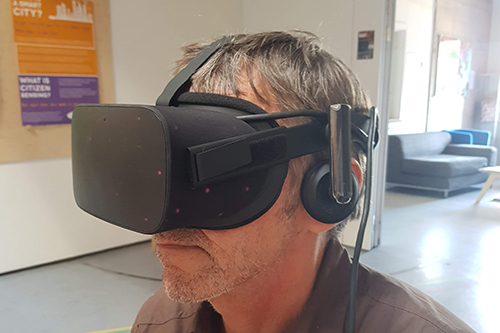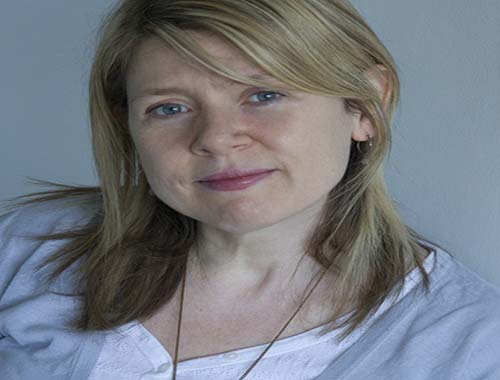 Press release issued: 18 June 2019
A Virtual Realities project will be showcasing three non-fiction works and hosting a discussion panel next Tuesday [25 June] from 5 to 8 pm at the Watershed, Bristol.
The immersive and pathfinding documentaries include 'The Waiting Room', 'Love and Seawater' and 'Transplant'. Audiences will be able to experience the nonfiction prototypes first-hand using a variety of headsets (Oculus Go, Oculus Rift and HTC Vive).
The project investigates the use of Virtual Reality (VR) for journalism and documentary, and the impact the platform has on storytelling and audience experience.
The showcase will also include panel discussions giving the audience the opportunity to interact with the artists and producers. They also will be joined by special guest Nonny de la Peña, CEO & Founder of award-winning innovation company Emblematic Group who is flying over from America to attend.
The Virtual Realities: Documentary Encounters project, funded by the EPSRC, is a collaboration between the University of Bristol, University of Bath and UWE Bristol (the University of West of England) in partnership with the Watershed, BBC, the Guardian, Aardman Animations, VRCity, Jongsma + O'Neill, Archer's Mark, VRTOV and MIT's Open Documentary Lab.
About the Documentaries
The three projects were chosen from among over 150 applications based on their originality and innovation.
The Waiting Room:VR
The Waiting Room, from Bafta Award winner Victoria Mapplebeck tells the story of her own breast cancer from diagnosis through treatment to recovery. Her first exploration of VR; this project explores the cultural myths and language of chronic illness, asking us to confront what we can and what we can't control when our bodies fail us.
Love and Seawater
Love and Seawater is the first VR work created by filmmaker Lisa Harewood and creative technologist Ewan Cass-Kavanagh. This work addresses the legacy of the separations between parents and children that have been a feature of Caribbean economic migration, and takes a participatory approach to production, involving those affected by this theme in developing a VR treatment of this previously invisible aspect of global migrant culture.
Transplant
Transplant is a new work by producers Oscar Raby and Katy Morrison of the Melbourne based VRTOV studio, whose field-defining VR projects have been shown and celebrated from Sundance to Sheffield DocFest. Set in Chile under the dictatorship of General Pinochet, Transplant centres on the ideas of biologist and philosopher Francisco Varela, as he undergoes a liver transplant, it asks; how do we repair a damaged organism? How do we reorganise a damaged society? Transplant asks us to consider, through interactive VR, the relationship between body and mind.
Further information
Further information:
Event space is limited so please contact jo.gildersleve@bristol.ac.uk for further details regarding booking for the event.
About the project
Funded by the Engineering and Physical Sciences Research Council (UK EPSRC EP/P025595/1), Virtual Realities is a collaboration between the University of Bristol, University of Bath and UWE Bristol (the University of the West of England), in partnership with Watershed, BBC, the Guardian, Aardman Animations, VRCity, Jongsma + O'Neill, Archer's Mark, VRTOV and MIT Open Documentary Lab.
The Virtual Realities - Immersive Documentary Encounters is a collaborative research project that seeks to examine the production and user experience of non-fiction virtual reality content. Through a process of investigation, dialogue, and shared findings, researchers from human-computer interaction, psychology and documentary studies are working alongside internationally recognised creative industry collaborators to support the development of this new production sector, keeping the interests of audience and subjects to the fore.
So far, the research has involved the creation of a VR Mediography, an online interactive timeline documenting where nonfiction VR production has come from, where the current state of the art lies and how technology and creative form are developing. A production study involving leading international producers is capturing approaches to storytelling, emerging business models and ethical concerns in this emerging 360 medium. Lab-based psychological studies and an ethnographic household study are probing engagement, attention, understanding and emotional reaction to immersive nonfiction media content.