View all news
Record number of women receive honorary degrees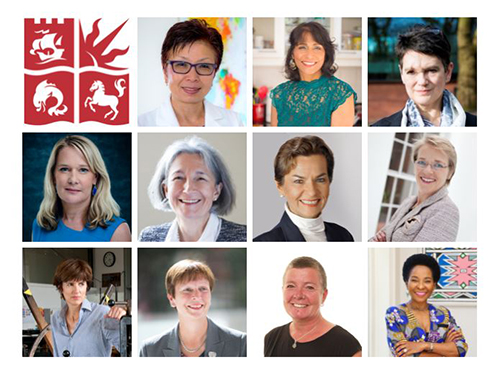 Press release issued: 24 July 2019
A record number of women have received honorary degrees from the University of Bristol this year, celebrating their inspirational achievements both in the UK and internationally.
Eleven out of the 16 people being honoured during this summer's graduation ceremonies [19 to 26 July] are women.
Among the inspirational women is Bristol-based Lisa Johnson, who is Manager of Direct Services at Women's Aid, which she joined as a helpline volunteer in 1996.
Motivated by her personal experience as a child survivor of domestic violence and eager to make a difference to women and children's lives, Lisa has overseen the transformation of the helpline from a few phones, a ring binder, and a whiteboard to an internationally renowned helpline which uses technology and innovation to better support those who call.
The helpline is now accessible 24 hours a day, 365 days a year and responds to over 100,000 callers per year. Lisa received a Doctor of Law degree in recognition of her achievements.
Bristol alumna Sam Smith, who graduated from the University of Bristol in Economics and Accounting in 1995, received a Doctor of Law honorary degree. She qualified as a chartered accountant before becoming the only female chief executive of a city broking firm, finnCap, which she established in 2007.
Professor Mamokgethi Phakeng, Vice-Chancellor of the University of Cape Town and recently named the most influential woman academic in Africa, was awarded an honorary degree on Monday.
Other pioneering women being awarded honorary degrees include:
Dame Clare Marx, the first woman to be appointed President of the Royal College of Surgeons as well as the first women to become chair of the General Medical Council
Dr Julie Maxton CBE, Executive Director of the Royal Society - the first woman in 350 years to hold the post
Bristol-based Kalpna Woolf, former Head of Production at the BBC, who has strong links with businesses and charities in the region
University of Bristol alumna Gillian Guy, a lawyer who is has been Chief Executive of Citizens Advice since 2010
Bristol-based award-winning artist Emma Stibbon, whose work focuses on environments undergoing dramatic change and has been exhibited internationally
Dr C Cindy Fan, Professor of Geography at the University of California and the first woman and Asian to be appointed Vice Provost for International Studies and Global Engagement
Professor Diane Coyle, Bennett Professor of Public Policy at the University of Cambridge, specialising in the economics of new technologies
Christiana Figueres, Executive Secretary of the United Nations Framework Convention on Climate Change
An honorary degree is a major accolade, awarded in recognition of outstanding achievement and distinction in a field or activity consonant with the University's mission.