View all news
Vet nurse teacher named as 'inspiring leader' by Royal College of Veterinary Surgeons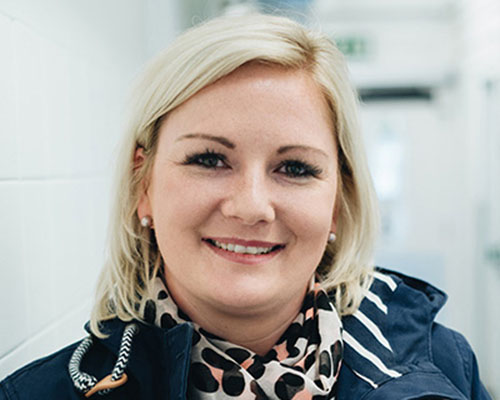 Press release issued: 12 July 2019
A teaching fellow at the University of Bristol Vet School has been named as one of 12 inspiring veterinary leaders by the Royal College of Veterinary Surgeons (RCVS) – the UK's regulatory body for veterinary surgeons.
Gemma Irwin-Porter, who leads a team of tutors providing pastoral care for student veterinary nurses at Bristol's Vet School, was named by Amanda Boag, RCVS President at the Royal College's Annual General Meeting as one of the profession's inspirational leaders. The awards, which form part of the RCVS's Leadership initiative, aims to highlight the diverse range of leadership development opportunities for vet surgeons and nurses, the roles and positions that these could lead to, and the impact they could have on the future of the professions.
Amanda Boag, RCVS President, said: "Vet professionals are almost invariably all leaders, but we are not always good at recognising and promoting this. The RCVS wants to celebrate leaders from across the vet and vet nursing professions, including both those leading every day in their workplaces, as well as those in traditional leadership roles. We want to highlight our qualities as both people and professionals, and emphasise the need to recognise these qualities and, through that, give us all the confidence to take up leadership roles."
Gemma, a teaching fellow and Bristol graduate who studied veterinary nursing in its 1999 cohort, added: "I am thrilled to have been acknowledged by the RCVS as part of its Leadership initiative. I have been fortunate enough to spend 14 years in Veterinary Nursing education. I moved to the University of Bristol in February to teach vet nurses and have found it extremely rewarding. I've been able to relate to my students throughout my career because I know how it feels to move away from home and suddenly be faced with having an academic workload or extra mural studies in the holidays, those pressures are still the same. I am passionate about training the students not just in veterinary nursing, but also equipping them for broader life challenges."
The 12 people who have been showcased as part of the initiative are:
Sarah Colegrave, a clinical director of a small animal practice in King's Lynn who uses leadership to develop her team's talents;
Professor Liz Mossop, Deputy Vice-Chancellor for Student Development and Engagement at the University of Lincoln who talks about the importance of mentoring;
Incoming RCVS President Niall Connell, who talks about how a life-changing illness has lead him towards leadership roles;
Gemma Irwin-Porter, who leads a team of tutors providing pastoral care for student veterinary nurses at the University of Bristol;
Hatti Smart, a student veterinary surgeon who is playing a leadership role in the veterinary LGBT+ community;
VN Council member Matthew Rendle, who talks about the importance of everyday kindness in leading others;
Sam Joseph from StreetVet, who talks about how the plight of the homeless and their animals led to the foundation of the life-changing programme;
University of Nottingham PhD student Bobby Hyde who talks about the importance of good communication, even when it comes to complex topics;
Richard Artingstall, clinical director at a Gloucestershire referral centre, who talks about the links between leading a practice, and hands-on clinical work;
Victoria Fyfe, a veterinary nurse based near Durham who leads and inspires her practice team to engage with the RCVS Practice Standards Scheme;
Professor Joanna Price, Vice-Chancellor of the Royal Agricultural University talks about the importance of vision and strategy in leadership; and,
Ross Allan, a partner at a Glasgow-based veterinary hospital focuses on how vets can take the lead in controlling their own destinies.
The full video for the showcase and a digital copy of the booklet featuring 12 in-depth interviews with the inspiring veterinary leaders can be found at www.rcvs.org.uk/InspiringLeaders
Further information
Study at the Bristol Veterinary School
The University of Bristol offers a range of undergraduate degrees including BSc Veterinary Nursing degrees in both Bioveterinary Science and Companion Animal Behaviour, the 5 year BVSc Veterinary Medicine degree and from September 2019 the BVSc Veterinary Medicine: Accelerated Graduate Entry Programme for students with a relevant first degree. In addition a number of postgraduate programmes and continuing professional development courses are provided from leading research academics.
About the Royal College of Veterinary Surgeons
The RCVS is the regulatory body for veterinary surgeons and veterinary nurses in the UK that sets, upholds and advances veterinary standards, to enhance society through improved animal health and welfare.