View all news
Scientists get on their soapboxes to tackle gender bias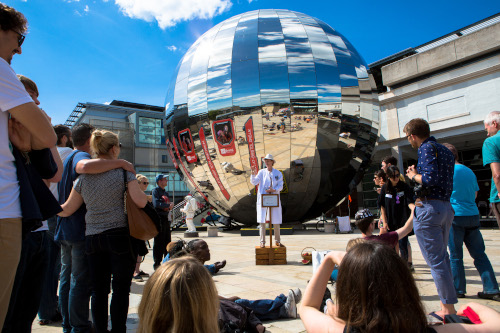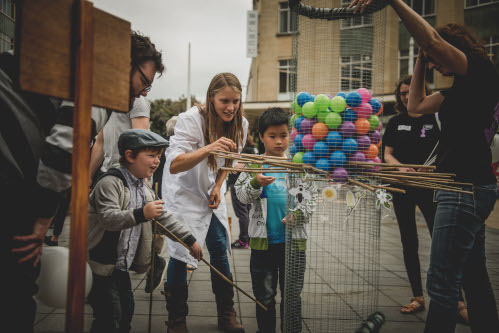 Press release issued: 5 July 2019
Next month Broadmead Shopping Centre will be transformed into a celebration of women in science, as a troupe of 12 leading female scientists from across the South West will leave their labs and lecture halls in favour of Bristol city centre for the annual Soap Box Science Festival [12-3pm on Saturday 13 July].
In the tradition of Hyde Park's Speaker's Corner, the scientists will be taking to custom-made wooden 'soapboxes' and the festival will include activities, demonstrations and debates to give passers-by a glimpse of the latest in scientific discovery; from camouflage in animals to growing red blood cells in the lab.
The public will be invited to learn, question and interact with the researchers during one-hour sessions, which showcase four speakers per session.
Currently, women make up only 11 per cent of UK STEM (science, technology, engineering and maths) senior lecturers and less than 8 per cent of UK professors, despite that women account for 35 per cent of PhD science graduates.
Recent studies show that one of the big problems that is driving this loss of women from science is unconscious bias. The UK has an annual shortfall of around 40,000 UK STEM workers which could potentially be resolved by retaining these women lost from science.
Soap Box Science aims to tackle this shortfall by working towards better experiences for women, campaigning for equality in academic institutions, government, and wider society.
Raising the profile of women leading the way in their fields will help to challenge accepted views of what scientists should look and sound like.
Local co-organiser Dr Rebecca Pike, Senior Teaching Associate in the University of Bristol's School of Biological Sciences, said: "It's amazing to be part of such a special and innovative public engagement event that promotes women in science as well as allowing people to discover science from real scientists."
Soapbox co-founder Dr Seirian Sumner, whose research looks at the social evolution and behaviour of insects, said: "There's more to Soapbox than just a science outreach event. Soapbox champions the fabulous female scientists we have in the UK, providing accessible role models for the next generation of female scientists, and promoting the visibility of women in science to the general audience."
Soapbox Science Bristol takes place from 12pm – 3pm on Saturday 13th July in Broadmead Shopping Centre, Bristol (between the rainbow orb bollards outside Marks & Spencer Bristol Broadmead).
Further information
Follow Soapbox Science via the Twitter handle @soapboxscience, on Facebook and Instagram (@soapboxscience).
Soapbox Science is sponsored by the Science and Technology Facilities Council (STFC). The Bristol event is jointly funded by the School of Physics, School or Earth Sciences and Widening Participation funds at the University of Bristol.
Schedule:
12pm – 1pm
Dr Ulrike Bauer, University of Bristol: The ecology of plant-insect interactions
Dr Camilla Cerutti, University of Bristol: Location, location, location: when CANCER spread and relocate, we've got a deadly problem-METASTASIS!
Dr Hazel Hall-Roberts, University of Oxford: Gardening microglia at the core of dementia
1pm – 2pm
Dr Hana Mlcochova, The MRC Weatherall Institute of Molecular Medicine: What if Things go Wrong?
Miss Reham Aljalamdeh, University of Bath: Antibiotic particles for lung infections, are the smaller particles more effective?
Dr Karin Kjernsmo, University of Bristol: Iridescence as Camouflage
Daisy Gaunt, University of Bristol: Designing experiments to make us healthier
2pm – 3pm
Miss Anneka Mitchell, University of Bath and University Hospital Southampton: Blood thinners for older people – are the new ones better?
Miss Jannete Stevens, NHS Blood and Transplant, University of Bristol: Making blood in the lab
Dr Stephanie MacNeill, University of Bristol: Yeah, but how different are they really?