View all news
Installation of rainbow steps to celebrate our LGBT+ students and staff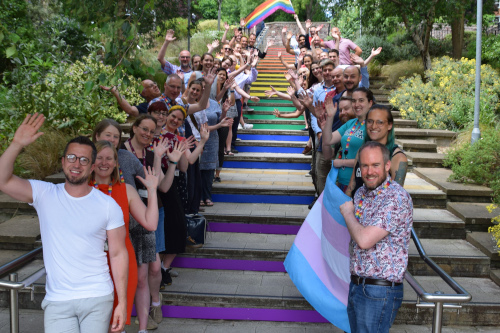 Press release issued: 5 July 2019
Rainbow steps have been installed at the University of Bristol this week to show our support and commitment to diversity and LGBT+ inclusion.
The colourful make-over of the Cantocks Steps, which connect Tankard's Close/University Walk to the School of Chemistry, has been unveiled during the Bristol Pride festival and at the same time as world-wide commemorations take place for the 50th anniversary of the Stonewall riots in New York.
Robert Kerse, Chief Operating Officer and Senior Champion for the LGBT+ Staff Network at the University of Bristol, said: "The University of Bristol is committed to being a community where all feel safe, welcomed and respected, regardless of gender, gender identity, race, sexual orientation, disability or social background.
"I'm very proud that the University has created this permanent installation to show our support and commitment to our LGBT+ staff and students."
Tony Joannou, Co-Chair of the University's LGBT+ Staff Network, said: "As we remember that it was 50 years since the New York City Stonewall uprising, it is fantastic that the University once again has shown positive support for the LGBT+ community.
"When we climb these rainbow steps, as students, staff or visitors, we can all reflect upon the advances that have been made in terms our rights since 1969."
Amelia Pereira, Trans representative for the University's LGBT+ Staff Network and Teaching Labs Technician for the School of Chemistry, added: "I think it's fantastic that an area with such heavy traffic within the heart of the university has been selected to bear the pride colours.
"As with the rainbow lanyards and the illumination of the Wills Building and Victoria Rooms in pride colours in previous years, the creation of the rainbow steps shows the city of Bristol that we as a university are a welcoming and diverse establishment, prepared to champion and stand in allegiance to our LGBT+ colleagues and students.
"It also helps to show members of the university that they work and study in a safe and inclusive environment."
This year the University is a lead sponsor of Bristol Pride and is providing a shuttle bus service from the City Centre to the Downs (where the party after the Parade is taking place on Saturday 13 July), so everyone can enjoy the day.
Staff and students are welcome to join the University on the Pride Parade – also on 13 July. The meeting point is at Castle Park at 10am – departing at 10.45am – at concourse next to St Peter's Church, near the junction of Wine Street and Newgate. All staff and students are encouraged to wear their rainbow lanyards or Pride T-shirts.