View all news
Producer takes to the stage to graduate 35 years after degree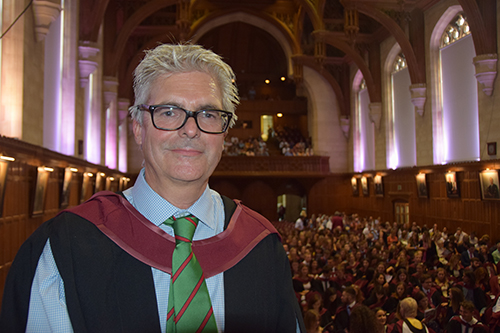 Press release issued: 30 July 2019
Top theatre, film and TV producer Matthew Byam Shaw has graduated from the University of Bristol – some 35 years after he completed his Drama degree.
He was due to graduate in 1984 but a wrangle over an outstanding fee of £70 left him officially unable to cross the stage.
But after jokingly handing over a cheque to his old lecturer, Professor Martin White, he was invited back to formally graduate in the Wills Memorial Building.
Not that a lack of certificate has held back his career. Matthew had already secured a place at RADA after completing his studies at Bristol.
Following 10 years of performing, he turned his talents to producing and is currently an Executive Producer of Netflix series The Crown, now filming its fourth season.
Prior to that he was a producer of the Oscar nominated film Frost/Nixon and has produced numerous West End and Broadway shows.
Matthew, who has always kept in touch with the Theatre Department despite the unfortunate parting of ways, said: "When it came to graduation in 1984, I was informed of a severance – it was only a small amount, around £70 – for something silly like unpaid laundry or misuse of the props in the drama department.
"I didn't agree so I suppose you could say there was a stand-off. I had a little quibble about the fine and not being able to graduate, but thought life's too short. I'd already got a place at RADA so didn't really have time to think about it.
"I jokingly gave a cheque to Martin when I came to the Theatre Department earlier this year and then, completely out of the blue, I got an email from the Vice-Chancellor asking if I would like to come to graduation in the summer. I was so surprised, I initially thought it was a phishing scam."
Matthew – who graduated alongside some of his daughter's friends who studied English – said he initially felt 'extremely embarrassed' but enjoyed the occasion.
He added: "It was a very special occasion. It's nice to finally close the circle in genuinely happy circumstances.
"I had a great time studying at Bristol. It really set me up for my career and I've got great memories. There are many, many special people who have come out of the department and I've enjoyed coming back and speaking to the next generation."