View all news
Kevin Elyot Award 2019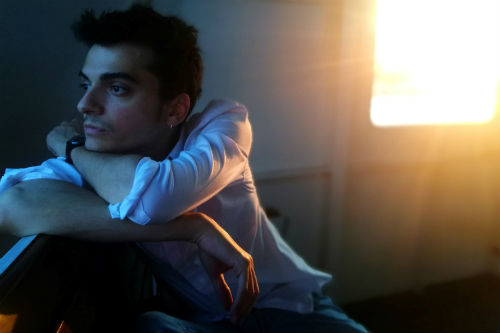 Press release issued: 17 July 2019
International playwright, translator and lecturer Erdem Avşar has been selected as the fourth recipient of the annual Kevin Elyot Award by the University of Bristol's Theatre Collection.
The award, created in the memory of the renowned playwright, screenwriter and Bristol drama alumnus, will support Erdem to create a new dramatic work inspired by Kevin's archive which was donated to the collection by his sister following his death in 2014.
This comprises hundreds of scripts, correspondence, manuscripts and publicity material detailing Kevin's work from initial idea to finished product from across his entire career.
Erdem Avşar's work as a playwright is political and often poetic in its language. He is fascinated with form and style and with the idea of queering dramatic realms and structures. He grew up in Istanbul and is now based in Glasgow and Istanbul.
He was selected to Royal Court Theatre's International New Writing Scheme where he completed his play Dark Pink under the supervision of Zinnie Harris, Mark Ravenhill and Richard Twyman.
His other political plays include his short play #occupylove (showcased at the Traverse Theatre as part of the TravNewTalents event Words, Words, Words), #politicsoftea (accepted to National Theatre of Scotland's "Yes, No, Don't Know" festival, co-curated by David Greig and David MacLennan) and The Contestant (opened at the Quartieri dell'Arte festival in Italy last year).
He won the EU Collective Plays! International Playwriting Competition co-funded by the Creative Europe Programme.
After a series of writing residencies in Italy, he wrote a polyvocal play, the Boy with Scar, in collaboration with three other playwrights. The play premiered at the 22nd Quartieri dell'Arte festival and it had a multinational cast and creatives from Italy, England, Northern Ireland, Turkey and Benin.
His translations of three Zinnie Harris plays premiered at DOT Theatre, Istanbul. His translation of Midwinter was listed in the 2017 Honours List of Eurodram – Network for Drama in Translation.
He holds a master's degree in Human Rights and recently won the University of Glasgow's Lord Kelvin/Adam Smith PhD Scholarship for a research on queer theatre as political intervention. He is also a UNESCO RILA Affiliate Artist, a network of artists that work within the realm of refugee integration through languages and the arts.
Erdem said: "Thank you very much, I am grateful to everyone who considered my application worthy of this brilliant award! I cannot wait to join you in Bristol and start discovering (and devouring!) Elyot's materials in the archive.
Previous winners of the award, Ian McHugh, Jon Berry and Deanna Rodger have produced thought-provoking work in response to the archive.
Further information
Kevin Elyot (1951 to 2014) was a Bristol alumnus (Drama Department) who started his career as an actor but went on to achieve great success through his ground-breaking plays and adaptations.
The Kevin Elyot Archive is held at the University of Bristol Theatre Collection, His process for adapting novels for television, such as his work with Agatha Christie's Miss Marple and Poirot is also well documented in the archive. The content relating to his plays, including the seminal My Night with Reg, demonstrates his creative process and the particular emphasis he placed on the importance of style and form within a play.
The Theatre Collection is one of the world's largest archives of British theatre history and Live Art and is an accredited museum and international research facility open to all.
Founded in 1951 to serve the first UK university drama department, our collections cover the period from 1572 to the 21st century and our visitors include everyone from international scholars to family historians.