View all news
Honorary degree for football legend Gary Mabbutt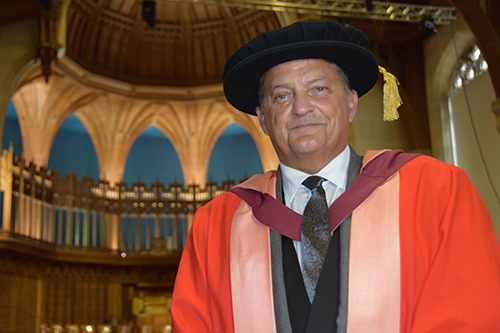 Press release issued: 19 July 2019
Football legend Gary Mabbutt, who was born and bred in Bristol before playing for England, has today [19 July] received an honorary degree from the University of Bristol.
The accolade is also in recognition of his tireless work to raise awareness of diabetes after being diagnosed with type 1 diabetes when he was 17.
Research carried out by the University at Southmead Hospital – where Gary was born – focuses on the causes, prediction and ultimate prevention of the condition.
Despite being told by more than one specialist that it meant the end of his dream to be a professional footballer, he defied the odds to become a top-flight footballer and ultimately a role model for many children with the condition.
Gary is perhaps best known for his time at Tottenham Hotspur where he played 611 times, winning the 1984 UEFA Cup and 1991 FA Cup.
After arriving at the Club from Bristol Rovers in 1982, the defender played for Spurs until 1998, captaining the side for 11 years and establishing himself as one of their longest-serving players of all time.
He was also capped 16 times by England and was awarded an MBE for services to sport in the 1994 New Year's Honours.
Gary spent his playing career massaging his numb feet, dealing with circulation issues and injecting himself with insulin in the dressing room. Once, before extra time in the 1987 FA Cup final, he even took a blood test on the field.
He appeared on the BBC's Blue Peter programme where he demonstrated injecting insulin into an orange to show how he dealt with his condition on a daily basis.
Since his retirement from playing, in addition to his ongoing role as a Club Ambassador, Gary has tirelessly campaigned on behalf of Diabetes UK as Honorary Vice-President.
Gary, 57, said: "I feel very honoured to be receiving an honorary degree, from my home city university.
"Bristol has always been part of my life, having grown up there until the age of 20, when I moved to London, to join Tottenham Hotspur.
"I was born at Southmead Hospital, went to Glenfrome and Elmlea Junior schools before going to Cotham Grammar School to finish my education, then starting my footballing career at Bristol Rovers.
"My family still live in Bristol and all throughout my career, the first football results that I looked out for were Bristol Rovers and Bristol City. I keep in contact with Rovers and I am good friends with Stephen Lansdown and his family, and so keep in contact with Bristol Sport.
"Unfortunately, my father Ray, passed away a couple of years ago and I am sure that he would have been so proud to see me graduating from the University of Bristol with an honorary degree."
Professor George Banting, Emeritus Dean of the Faculty of Biomedical Sciences, spoke about Gary's achievements during the ceremony.
He said: "Gary's achievements as a player speak for themselves: he was awarded an MBE in 1994 for his services to football, and in 2000 the Professional Footballers Association presented him with an award for outstanding service to English Football.
"The end of his playing career was only the beginning of his work as an advocate for football, at-risk children and people with diabetes.
"Gary's determination to succeed as a professional footballer has been an inspiration for others with diabetes to understand and manage their condition, to pursue normal sporting activities and to refuse to let the condition rule their lives.
"We are celebrating Gary today, not just for his tireless work to raise awareness of diabetes, but for his positive attitude which inspires those around him. He is a great credit to Bristol, the city of his birth and formative years. He is also a role model for us all, diabetic or not, sporting or not."