View all news
Student-led hub for nutrition in medical education wins BBC Food and Farming Award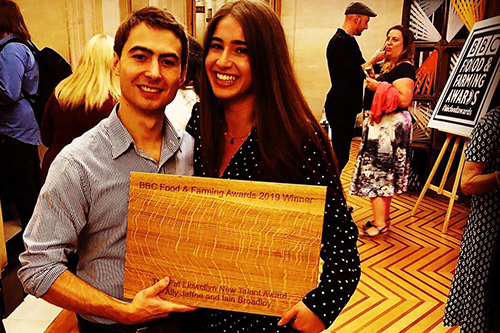 Press release issued: 16 July 2019
A student-led organisation that aims to promote the need for greater nutrition and lifestyle medicine training within medical education has won a prestigious award at this year's BBC Food and Farming Awards. Bristol Medical School students, Iain Broadley and Ally Jaffee, co-founders of Nutritank won the Pat Llewellyn New Talent Award.
The organisation was set-up after Iain and Ally learnt some medical students are receiving as little as eight hours of compulsory nutrition training out of the five or six years at medical school. Faced with rising levels of chronic disease, mainly related to poor diet and lifestyle, Nutritank has founded more than 20 medical school societies across the UK. The campaign is now feeding into the NHS long-term plan.
The BBC Food and Farming Awards were launched in 2000, to mark the 20th anniversary of Radio 4's The Food Programme. Originally comprising seven categories, the number has increased to eleven to reflect changes in British food culture, new ideas, businesses and trends. This year a new category, the Pat Llewellyn New Talent Award, was added looking for those under 30 who are passionate, have innovative new ideas and are working hard to improve food or farming in the UK.
Iain Broadley and Ally Jaffee, Bristol Medical School students and co-founders of Nutritank, said: "We are so humbled and thrilled to receive this prestigious award and the recognition that it brings to our work. This award is especially amazing as Pat had done so much to revolutionise good food on the TV, working with Jamie Oliver in creating 'the naked chef', which was at the very beginning of his career.
"Jamie has now gone onto do so much fantastic work with food and social change and it feels so special to have worked with him last year. We feel so thankful for the support he has shown us as well as the BBC and the judges Ben and Barney. Jamie was also the individual who announced us as the winners for the Pat Llewellyn prize at the BBC Food Awards."
High blood pressure, type 2 diabetes and cardiovascular disease are some of the UK's major chronic health conditions that are associated with mortality and disability. With many of these conditions, the first line management is to offer patients diet and lifestyle advice. However, doctors and medical students can feel ill-equipped to give such advice.
Nutritank was set-up to make a change to the healthcare system by ensuring that there is greater nutrition and lifestyle medicine education within medical training, to give doctors another tool in their toolbox.
The organisation, through its think tank wants each UK based medical school to commit to increasing nutrition and lifestyle education within their medical school programmes by the end of 2019.
Since Nutritank was founded the organisation has inspired a network of medical students nationwide. They have become regional Nutritank ambassadors and have established their own Nutritank branch at their medical school. There are 33 UK medical schools in the UK and, in under two years, 23 medical schools have established Nutritank branches.
Further information
A full list of BBC Food and Farming Awards 2019 winners is available at: https://www.bbc.co.uk/programmes/articles/1FwbXt9WFTXwSNbKJsDjdFC/the-bbc-food-and-farming-awards-2019-winners
About the Pat Llewellyn New Talent Award
Pat Llewellyn spotted the talents of Jamie Oliver, Gordon Ramsay and The Two Fat Ladies and changed the face of cookery on TV. In 2017, aged 55, Pat died from breast cancer. To honour her legacy her husband Ben Adler teamed up with the BBC Food and Farming Awards to launch a category, the Pat Llewellyn New Talent Award, that honours new talent in the food and drinks industry.
About Nutritank
Nutritank is an information and innovation hub for food, nutrition and lifestyle medicine. Empowering young people and communities to make a change.
Founded by two current medical students, our focus is medical education.
Through Nutritank's university society branches "Nutritanksoc's", we aim to promote the need for greater nutrition and lifestyle medicine training within medical education.
Originating at Bristol Medical School, Nutritank has achieved a growing momentum across the UK, from the development of these Nutritank society branches at over 20 medical schools, to online and social media engagement and the curation of key projects on a local and national scale.
Nutritank's think tank is a member of an inter-professional working group tasked by the General Medical Council (GMC) to ensure more nutrition education is integrated within UK undergraduate medical school curricula.
Through Nutritank's online community hubs and toolbox it aims to further promote the message of nutrition in medical lifestyle education not only to healthcare professionals and students, but also interested members of the public. This is vital, as lifestyle medicine really does depend on the engagement and empowerment of patients.