View all news
Farmer-led research tackling antimicrobial resistance wins Antibiotic Guardian Awards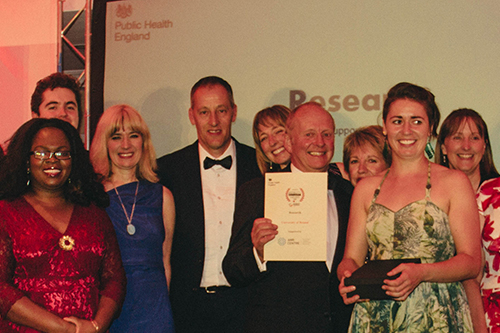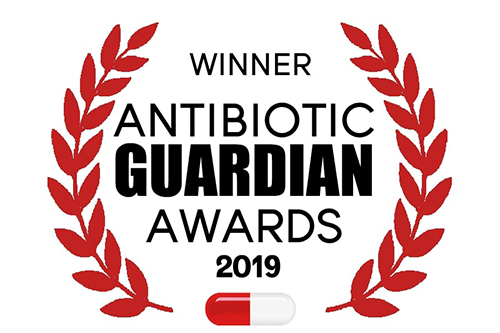 Press release issued: 4 July 2019
A project to tackle antimicrobial resistance (AMR) on English dairy farms has won a prestigious award at this year's Antibiotic Guardian Awards held in Birmingham last week [Thursday 27 June]. The Bristol Veterinary School PhD project - Farmer Action Groups - was a winner in the Research category.
The fourth inaugural awards, hosted by the Chief Veterinary Officer, Christine Middlemiss and run by Public Health England, were attended by leaders in human and veterinary medicine and the agricultural industries from the UK and around the world, including entries from Tanzania, Sierra Leone and Spain.
The University of Bristol co-ordinated Farmer Action Groups were joint winners with the University of Birmingham in the Research category. Set up to recognise the ongoing work on AMR research, this category had five shortlisted entries with the London School of Hygiene and Tropical Medicine receiving Highly Commended.
The Farmer Action Groups were awarded the top prize for their innovative farmer-led approach to reducing antimicrobial use on English dairy farms. Eight farmer representatives from the project and the team who co-ordinated the project, Drs Lisa Morgans and Kristen Reyher, attended the event.
Dr Lisa Morgans, research associate in the Bristol Veterinary School, said: "We were delighted the project was recognised for trying to reduce antimicrobial use and improving animal health and welfare. I was impressed by the work put in by the farmers and how they worked together to improve the way they farmed.
"We know from the project that farmers valued the knowledge exchange at each meeting and the opportunity to discuss best practice with colleagues. The peer support between farmers was a key factor in encouraging farmers to change and adapt their practices to reduce the need for antimicrobials."
The Farmer Action Groups consisted of 30 dairy farms spread over five groups in South West England. Each group met on each other's farm every few weeks over two years to discuss antimicrobial use, reflect on one another's farming practice and support each other as they worked towards reducing the use of these critical medicines.
Each meeting involved a farm walk, facilitated discussion and participatory action planning. All farms committed to implementing the farmer-led recommendations from their action plan over the course of the project. Ninety per cent of farms reduced or eliminated highest priority critically important antimicrobials within a year and all farms implemented at least one farm change from their action plan, with many farms implementing various changes as a result of the project.
Farmers who took part in the project, commented: "It was great to discuss, understand and help each other improve cow husbandry whilst reducing antibiotics. To be able to take away different ideas from the farms and apply them has helped us improve our calf health and reduce our mastitis. As a result of the action groups we now vaccinate for pneumonia in all our heifers and most vulnerable beef calves. This has reduced antibiotic treatments across the board as well as stopping the use of third generation antibiotics."
Dr Diane Ashiru-Oredope, lead for the Antibiotic Guardian campaign, said: "The Antibiotic Guardian awards are an excellent opportunity for us to champion organisations and individuals who have demonstrated achievement in their work to tackle antimicrobial resistance, one of the biggest global public health threats we face.
"These awards have highlighted the wealth of fantastic work taking place across the country. I'd like to personally congratulate all the nominees and winners for their contributions. At Public Health England we will continue to support and work with partners across the health system to tackle antimicrobial resistance."
The results from the project formed Dr Morgans PhD thesis, which was funded by the Agriculture and Horticulture Development Board for Dairy (AHDB Dairy) and the Langford Trust.
Further information
A full list of Antibiotic Guardian Awards 2019 winners and commended are available at: https://antibioticguardian.com/antibiotic-guardian-awards-2019-winners-and-commended/
About antimicrobial resistance (AMR) research
Antimicrobial resistance research at the Bristol Veterinary School is promoted and facilitated by the AMR Force, initiated and led by Dr Kristen Reyher. We work across the South West, nationally and internationally and are interested in reducing antimicrobial use while improving animal health, through a plurality of approaches addressing differing styles and attitudes.
The Farmer Action Groups were established for Dr Lisa Morgans PhD and were funded by AHDB Dairy and the Langford Trust. Dr Morgans has now completed her PhD and will be working with the industry to promote and expand the use of a farmer-led approach in other areas and with other farmers.
Find out more about the AMR Force on their website: http://www.bristol.ac.uk/vetscience/research/infection-immunity/main/ or follow their Twitter feed @AMRForce