View all news
University of Bristol reaffirms commitment to the city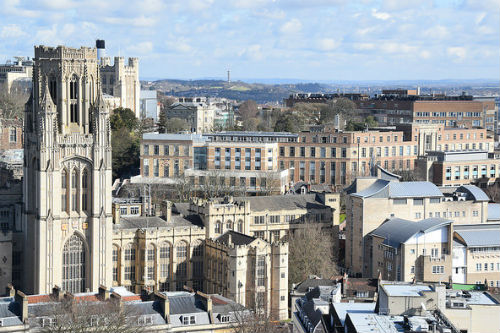 14 February 2019
The University of Bristol has pledged to align its priorities with those of regional and city partners as part of a national initiative aimed at strengthening the civic impact made by universities across the UK.
Along with 30 other universities, Bristol has committed to developing a Civic University Agreement, by working with local government, businesses and community organisations to incorporate the needs of the city and the surrounding region into its strategic plans.
The agreement is one of several recommendations made by the Civic University Commission in a new report that sets out how universities have the capability, opportunity and responsibility to support the people and places that surround them.
University of Bristol Deputy Vice-Chancellor (New Campus Development) Professor Guy Orpen welcomed the report, saying: "This agreement demonstrates our commitment to working with our great city to benefit Bristol and all the people who live, work or visit here.
"It comes at a pivotal point in the history of the city and of the UK, and when we are working with partners at local, national and international levels to address some of the great challenges posed by the 21st century, including inequality, climate change, new technologies and ageing.
"Now more than ever we need to work together to integrate what we as a city have to offer, and to ensure that we not only maintain but enhance our standing as a thriving city, to deliver a bright future for all its people. We look forward to building on the relationships we have with the region's communities, businesses and local government to take that vision forward."
The report was based on evidence-gathering sessions held across England, as well as opinion polling and focus groups in cities and towns to hear from the public what they wanted from their local university.
The Commission, set up by the University Partnerships Programme (UPP) Foundation, found that communities welcome opportunities to connect with universities, and there is great local pride about how universities put their hometown on the map.
"The deep economic and social changes that are happening in Britain today have, alongside Brexit, made the civic role of universities even more vital to the places they are located in," said Chair of the Commission, Lord Kerslake.
"The civic universities of the Victorian era were founded as expressions of civic pride, and as a way of sharing knowledge and opportunity at a time of rapid change.
"We are now entering a new industrial revolution when it will be even more vital that knowledge is accessible in as many communities as possible. It is not just people outside university grounds who will benefit. Universities are under unprecedented challenge and need to find a broader base of support. Universities need to be part of a community which is engaged, supportive and shares objectives."
Further information
The Civic University Agreement comes at a time when the University of Bristol is preparing to hold the Bristol Forum, a new collaboration between Bristol City Office, the University of Bristol and the University of the West of England that aims to advance the problem-solving capacity of our city by bringing together innovative research and creative approaches to raise questions and address challenges relevant to the city and its vibrant communities. The Forum takes place on 29 March at City Hall. See the website for further details.