View all news
Bristol hosts country's top AI and data scientists for Turing Hackathon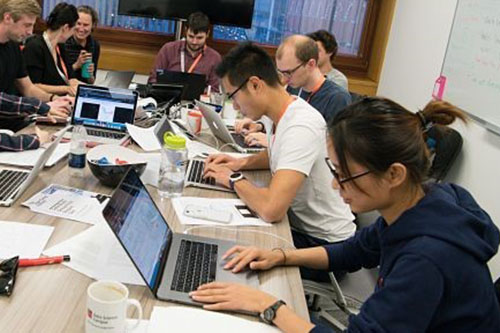 30 July 2019
Some of the country's top talent from data science, artificial intelligence and related fields will be taking part in a week-long hackathon next week (5-9 August) to analyse real-world data science challenges.
The Turing Network Data Study Group, organised by the University of Bristol's Jean Golding Institute in collaboration with The Alan Turing Institute, will be a week-long hackathon which will bring together organisations from industry, government and the third sector, with talented multi-disciplinary researchers from academia.
Organisations act as Data Study Group 'Challenge Owners', providing real-world problems and data sets to be tackled by small groups of highly talented, carefully selected researchers. Researchers then brainstorm ideas and engineer data science solutions, presenting their work at the end of the week.
Natalie Thurlby, Data Scientist at the Jean Golding Institute said "We can't wait to welcome participants from across the UK and beyond to the University of Bristol for the first Turing Data Study Group outside of London.
Participants will produce solutions to six diverse data science challenges, which we hope will result in new and long-lasting collaborations."
Ella Gale, Academic Lead for the Turing Network Data Study Group in Bristol said "Data study groups are an excellent opportunity for data scientists to practise their skills on interesting datasets and for data owners to have a crack team testing out the latest data science techniques on their data to elucidate promising areas for future research."
Further information
About the Jean Golding Institute for data science and data-intensive research
The Jean Golding Institute (JGI) at the University of Bristol is a central hub for data science and data-intensive research. Their mission is to create an environment where novel data-intensive research areas are explored and developed, and interdisciplinary exchanges promote a spirit of collaboration.
About the Alan Turing Institute
The Alan Turing Institute is the national institute for data science and artificial intelligence and its mission is to make great leaps in research in order to change the world for the better.