View all news
Animal welfare and research 3Rs symposium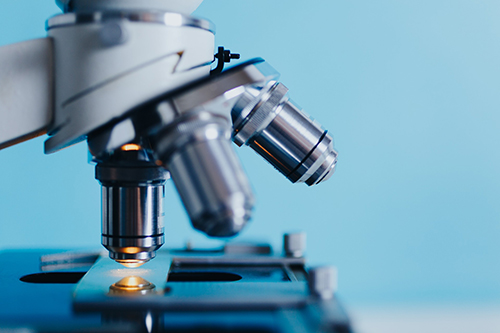 12 August 2019
Scientists had the opportunity to find out about current research and share best practice of the '3Rs': Replace, Reduce and Refine at this year's University of Bristol Animal Welfare and Research 3Rs symposium, held earlier this summer.
The principles of 3Rs, developed over 50 years ago as a framework for humane animal research, are fixed in European and UK law. When researchers at the University use animals, they always comply with the '3Rs' – aiming to replace them, where possible, with alternatives; to reduce the number of animals used and to refine their experiments to minimise any adverse effects.
At the event, the winners of the University's 3Rs competition were announced. The judging panel included the University's Veterinary Officer, a Named Animal Care and Welfare Officer, a representative from Norecopa, Norway's national consensus-platform for the replacement, reduction and refinement of animal experiments and GW4's 3Rs Regional Manager.
The prize-winning research projects were:
1st – 'A refined and translational method for assessment of novel antidepressants' – Life Sciences: School of Physiology, Pharmacology & Neuroscience;
2nd – 'Zebrafish ex-vivo scale culture to discover new osteoporosis therapeutics' – Bristol Medical School: Translational Health Sciences;
3rd – 'Optimisation of tamoxifen administration routes in cre mice' – Bristol Medical School: Translational Health Sciences.
For more than 40 years two pre-clinical methods have been used for research into antidepressants. While these tests have helped in the development of many of the antidepressant treatments used today, it has become increasingly clear that they only work for drugs acting through a specific neurochemical system.
The research group that won first prize has developed an alternative method to study depression-related biology in rodents, which avoids the need to use negative methods and has better translational validity. The affective bias test (ABT) is a simple bowl digging task based on associative learning and memory. Translated from clinical observations in patients with mood disorders and evidence that they experience impairments in reward-related learning and memory, the task requires animals to learn two independent pieces cue-reward association. The group found the ABT is effective in males and females and the test is a refinement to the traditional stress-based tests.
Osteoporosis is a health condition that weakens bones, making them fragile and more likely to break. The disease affects more than 27.5 million people in Europe, which is rising due to an ageing population, and, costs EU countries around €37 billion each year. New anabolic drug targets are needed to treat the disease effectively, as currently there are few treatments options, and zebrafish are known to be a good model to study musculoskeletal diseases.
The second prize was awarded to a research team who has established a new technique in Bristol where scales of zebrafish are cultured in a setting that enables researchers to test new drugs on a larger scale. A single adult has around 200 easy-to-harvest scales which contain mineralised bone matrix and harbour all the cells involved in bone metabolism. Traditional compound testing in zebrafish is normally done by housing larvae in plates. With this technique animal use can be reduced by 99.5 per cent by sacrificing a single adult (one adult to 200 larvae) to test several compounds.
The third prize was awarded to a research team who compared giving drugs under the skin (subcutaneous) vs. applying medication to the skin (topical), to see which one was better. Administration of tamoxifen is required for causing recombination in CreER mouse lines. This is usually given subcutaneously, but recent studies have shown that a topical approach could be used to label cell populations in the eye.
The results indicated that both approaches were able to tag all of the cells of interest, but the subcutaneous route also tagged some peripheral cells which the team observed within the eye in their disease model. The group also showed that the topical procedure could be reduced in length from four days to three days, which is a further refinement as it reduces mice handling.
Dr Nicola Watts, Director of the Services Unit, said: "The University of Bristol is ranked among the world's leading research-intensive universities, with a successful track record of translating scientific discoveries into real-world advances. Our scientists who work with laboratory animals are committed to the 3Rs and this symposium gives us the opportunity to share good practice.
"The welfare of animals involved in research is a top priority and we are committed to a 'culture of care' where animals are treated with compassion and respect. Ensuring a high standard of animal welfare is not only good for the animal, it improves the quality of our science and ultimately the lives of the people and animals that stand to benefit from our research."