View all news
Industry partnership to create the world's most accurate simulation of an aircraft jet engine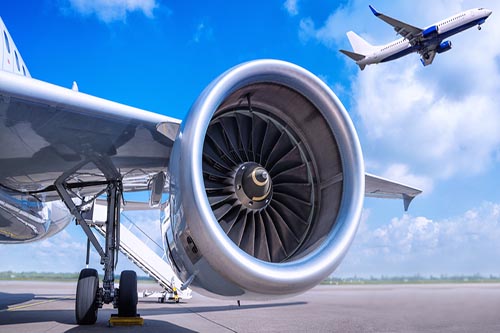 Press release issued: 27 September 2018
The project could lead to an aircraft jet engine simulation so accurate that it could enable new engine designs to be certified before they are physically built.
The University of Bristol has won a large new research project, called ASiMoV (Advanced Simulation and Modelling of Virtual Systems) in partnership with Rolls-Royce and a consortium of partners, including the universities of Cambridge, Edinburgh, Oxford, Warwick, and two local SMEs, CFMS and Zenotech. The 5-year, EPSRC-funded project, also referred to as a 'Prosperity Partnership', is one of seven such projects announced.
The ASiMoV project aims to simulate an entire aircraft jet engine in operation at very high fidelity, with a goal that one day the civil aviation authorities would be confident enough to certify the virtual design.
The project will enable the research and development of the next generation of engineering simulation and modelling techniques. These simulations will deliver the performance required but within pragmatic cost and power consumption constraints, revolutionising the development of engines.
ASiMoV is the largest high-performance computing (HPC) focused research project in the UK in recent times, worth £14.7M over 5 years.
Professor Simon McIntosh-Smith, from the University of Bristol's Department of Computer Science said:
"Our aim is to achieve the world's first high-fidelity simulation of a complete gas-turbine engine during operation, simultaneously including the effects of multiple different physical effects, including thermo-mechanics, electromagnetics, and computational fluid dynamics (CFD).
This level of simulation will require breakthroughs at all levels, including physical models, numerical solvers, algorithms, software infrastructure, and Exascale HPC hardware.
If we are able to achieve simulations that are accurate enough to enable virtual certification, this will bring a major business transformation for our industrial partners.
Estimated cost savings for virtual certification are measured in the many millions of pounds per engine programme. At the same time simulation-based design will enable much more rapid development of new engines and radical new techniques to achieve greater engine reliability and fuel efficiency."
The University of Bristol's High Performance Computing research group are world-leading academic experts in the application of advanced computer architectures to solve challenging scientific problems. The team's contribution to the ASiMoV project will be in collaboration withArm; a vendor of designs and intellectual property for computer processors, and 'Isambard'; the world's first Arm-based production supercomputer (named after the renowned Victorian engineer Isambard Kingdom Brunel). The Bristol-led Isambard project is itself a collaboration of the Great Western 4 (GW4) Alliance with the Met Office, Cray Inc., Cavium and Arm, and is another project funded by EPSRC.
Isambard is able to provide system comparison at high speed as it includes over 10,000, high-performance 64-bit ARM cores, making it one of the largest machines of its kind anywhere in the world, and the first production Arm-based supercomputer that is being used for real science. The Isambard system will be used to explore future computer architectures to achieve the ambitious ASiMoV scientific simulation goals.
Today's announcement marks the second round of business-led EPRSC Prosperity Partnerships that are designed to link research with industry. The five-year research collaborations are centred around topics of national and global importance, they cover a wide range of activities and processes that include developing;
a virtual factory approach to steel production - led by Tata Steel
new materials for solar panels – with Oxford Photovoltaics, a SME
new coatings and paints that are more sustainable – AkzoNobel
new bio-catalysts for use in the production of medicines – with AstraZeneca
quantum simulation and software development to harness the power of in quantum computing – led by Google
high-fidelity virtual simulation of a complete gas-turbine engine (aircraft jet engine) during operation - partnering with Rolls-Royce
new well stimulation technology that could improve the exploitation of subsurface energy sources – led by Weir Group
Supporting these projects, the EPRSC announced £20.4 million towards the seven partnerships, which has leveraged £16.8 million from industry partners and a further £4.9 million from universities.
Further information
The Engineering and Physical Sciences Research Council (EPSRC) is part of UK Research and Innovation, a non-departmental public body funded by a grant-in-aid from the UK government.
EPSRC is the main funding body for engineering and physical sciences research in the UK. By investing in research and postgraduate training, we are building the knowledge and skills base needed to address the scientific and technological challenges facing the nation.
Our portfolio covers a vast range of fields from healthcare technologies to structural engineering, manufacturing to mathematics, advanced materials to chemistry. The research we fund has impact across all sectors. It provides a platform for future UK prosperity by contributing to a healthy, connected, resilient, productive nation.
The objectives of the Prosperity Partnerships programme are:
to deliver TRL 1-3 research which is internationally leading in terms of research quality and has clear benefit to the business(es) involved, resulting in accelerated impact arising from the new knowledge.
for the academic and business partners to work together as equal partners to co-create the research programme over its lifetime. Leading to transformative potential of TRL 1-3 research for business benefit in the short and long term, and a society that is enriched, healthier, resilient and sustainable.
to deliver new or improved products or services, efficiencies and/or cost reductions, enable expansion to new sectors/markets and jointly author high-impact publications, providing economic impact and prosperity.
2. GW4 is an alliance which combines the intellectual capacity and physical resources of the four leading research-intensive universities in the South West of England and Wales: Bath, Bristol, Cardiff and Exeter.
By building on existing collaborations and by fostering new engagements, GW4 universities work together across all academic activity, opening up growing opportunities to collaborate in common areas of shared facilities, learning, training and development.
More about GW4 Isambard here; http://gw4.ac.uk/isambard/